Pigeon Pâté en Croûte, Horn of Plenty Chanterelles in Maple Syrup Confit
---
Game / Recipes with Maple Syrup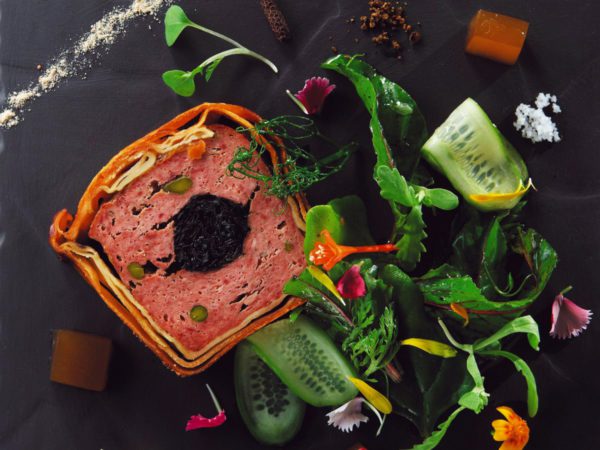 Ingredients
Lard Pastry
2 cups

flour

4 1/2 oz

lard, lukewarm

1

egg

1/2 oz

salt

6 1/2 oz

water, lukewarm
Egg yolk
Mushrooms
About 300 g (10 oz) fresh horn of plenty chanterelles

1 cup

maple syrup (preferably golden syrup for its delicate flavour)
Pigeon filling
3

whole pigeons, about 500 g (a bit more than 1 lb) of meat

a bit more than 1 lb

pork
Brown stock (poultry)

2 cups

bread

2 cups

milk
Pistachios, to taste
Salt and pepper, to taste
Pigeon broth
20 cups

water

1

carrot

1

tomato

1

onion

1

stalk of celery

1

bouquet garni : 1 bay leaf, 1 sprig of thyme, a few sprigs of parsley and a clove of garlic

2

cloves (stuck in the onion)
Jelly
Sherry, to taste

4 cups

white stock (poultry)

1 teaspoon

agar-agar

6

gelatine leaves

3/8 cup

maple syrup
Wild Québec herbs
Leaf of arenaria (sabline)
Leaf of erythronium (trout lily)
Leaf of orpin (golden root)
Flower petals: carnation, pansy
Flower of chives
Leaf of creeping saltbush
Method
Prepare the dough 24 hours in advance.
Clean and dry the chanterelles, place in saucepan and cover with 250 ml (1 cup) maple syrup. Cook for one hour over low heat.
The Filling
Pour lukewarm milk over the bread and allow to soak. Grind the pork (including its fat) together with the pigeon breast, leg, and wing meat.
The Pigeon Broth
brown the carcasses in the oven. In a saucepan, lightly brown the vegetables. Add the carcasses and water, and reduce until a nice brown colour is achieved. Filter through a cheesecloth. Reduce again to obtain a slightly thicker sauce. Set aside in a cool place.
In a bowl, mix the filling with the pistachios, the pigeon broth reduction, and the milk-soaked bread. Season and finish with the recipe ingredients. Set aside in a cool place.
When the chanterelles are done cooking in the syrup, drain and reserve the liquid for the wild herb vinaigrette. Using foil or plastic wrap, form the mushrooms into a roll. Set aside in a cool place.
The Jelly
boil the litre of poultry stock with the maple syrup, the agar-agar, and the gelatine leaves (previously soaked). Whisk well to dissolve the agar-agar. Remove from heat and add the sherry. Set aside. This is to be poured hot on the terrine once it's cooked.
Line the mould with the pastry, going over the edges. Fill halfway with the filling, position the mushroom roll in the middle, then cover with the rest of the filling to the top of the mould. Close the pastry and paint with the egg yolk. Make four small openings in the top and bake at 110 °C ( 225 °F) for about an hour and a half. Allow to cool and pour the maple syrup-sherry liquid into the openings. Set aside in a cool place.
Slice and serve, garnished with the wild Québec herbs.
This is a pâté en croûte refashioned to incorporate the flavours of maple. The traditionnal galantine ingredients are replaced with a pigeon filling and enhanced by the horn of plenty chanterelles in a maple syrup confit. It retains the classic baking preparation and jellied finish.
The Quebec Maple Syrup Producers are not in any way responsible for the identification or presence of allergens in recipes or for the classification of any recipe as vegetarian or vegan.
Hundreds of Delicious Recipes
Maple is a special addition to any recipe, from appetizer to dessert. Find one that's perfect for you or your occasion!