Maple-Ginger Buttered Salmon
---
Fish and Seafood / Recipes with Maple Syrup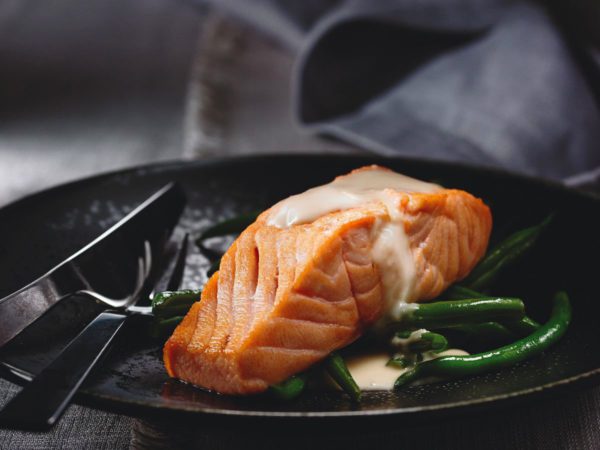 Ingredients
2 tablespoons

oil

4

150 g (5 oz) salmon fillets (or steaks)

1/3 cup

apple juice or water

1/3 cup

white wine vinegar or white balsamic vinegar

1 cup

shallots, chopped

1 teaspoon

fresh ginger, grated

1 1/2 cup

chilled butter, cut into pieces

1/3 cup

35% cream

1/3 cup

warm maple syrup (preferably amber for its rich taste)
Salt and freshly ground pepper, to taste
Method
Preheat oven to 190°C (375°F).
Oil and season salmon pieces, place on a tray and cook in centre of oven for 12 to 18, depending on size.
Meanwhile, in a saucepan over gentle heat, cook apple juice, vinegar, shallots and ginger until the mixture reaches a marmalade consistency.
Gradually add butter, stirring constantly with a spoon or whisk until smooth. Season to taste.
Add cream and continue cooking for 1 to 2 minutes.
Stir maple syrup into beurre blanc and heat for 1 minute.
To serve, remove skin and bones from fillets or steaks.
Pour a layer of maple–ginger beurre blanc on a serving plate, place salmon on top and serve with green vegetables.
Salmon is best when cooked to medium doneness.
The Quebec Maple Syrup Producers are not in any way responsible for the identification or presence of allergens in recipes or for the classification of any recipe as vegetarian or vegan.
Hundreds of Delicious Recipes
Maple is a special addition to any recipe, from appetizer to dessert. Find one that's perfect for you or your occasion!