Great in Recipes and Your Glass!
Whether it's adding a unique touch to your recipe or for sitting back and sipping, maple liqueurs and fermented maple water make their own special magic!
---
Artisanal alcoholic beverages have gained rapidly increasing popularity in Québec over the past few years. This has not escaped the attention of our many talented maple producers. For at least 30 years, their creativity has led to the emergence of an impressive variety of maple-based products.
Maple syrup and maple concentrate possess very interesting aromatic possibilities, making them the base for a diverse yet unique collection of fine spirits.
---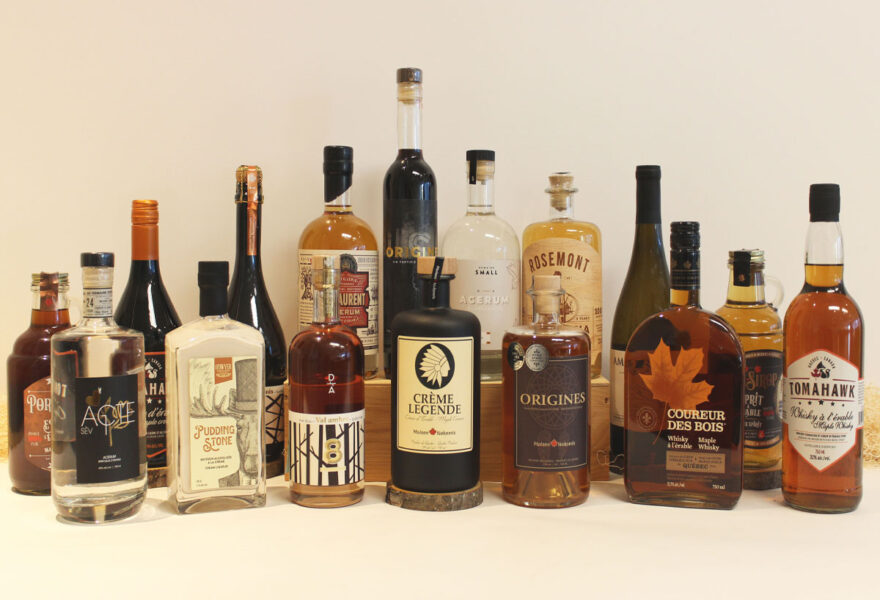 ---
There are 3 main categories of maple alcohols:
Maple wine is produced exclusively by the fermentation of a maple must. Maple is the fermentable concentration of maple sap or the dilution of maple syrup.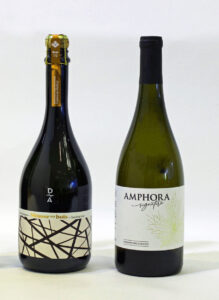 (left to right : Mousse des bois – Domaine Acer, Amphora Signature – Domaine des coulées)
Maple brandy (eau-de-vie) comes from the distillation of maple wine.
SPIRITS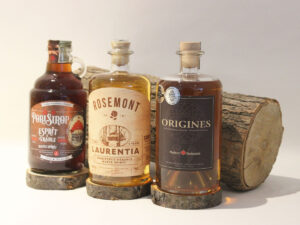 (left to right : Liqueur – Pori-Sirop, Rosemont Laurentia – Distillerie de Montréal, Origines – Maison Nokomis)
ACERUM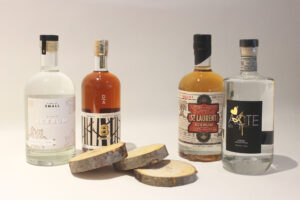 (left to right : Acerum blanc – Domaine Small, Val Ambré – Domaine Acer, Acerum 1 an – Distillerie St-Laurent, Rhumerie du Théâtre Sèv Acte 1 – Distillerie La Chaufferie)
Maple-flavoured products result from the mix of an alcoholic beverage (wine, mead, cider, whisky, etc.) with maple syrup. There is no fermentation or distillation of maple sap or syrup in this type of beverage.
MAPLE WHISKY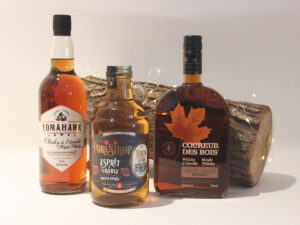 (left to right : Whisky à l'érable Tomahawk – Distillerie Shefford, PoriSirop Brun – Pori-Sirop, Whisky à l'érable Coureur des Bois – LCBO)
MAPLE CREAM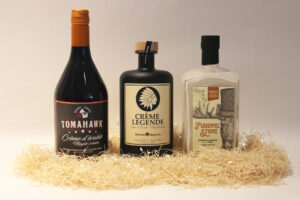 (left to right : Crème d'érable – Tomahawk – Distillerie Shefford, Crème légende – La Maison Nokomis, Puddingstone – Distillerie Gaspé)
---
How They Are Made
There's a variety of methods used to make maple-based alcoholic beverages.
FERMENTATION (Maple Wine)
Fermentation involves the conversion of the sugar in a maple must through yeast activity. This process produces dry white, or sweet, mellow, or syrupy wines. The alcohol content reaches up to 17%.
A producer may choose to barrel-age a maple wine. This primary fermentation could be followed by steps that induce other results. For example, a second fermentation in the vat or bottle or the application of carbon dioxide will produce the effervescence of a sparkling or demi-sec maple wine.
Beyond all these choices, the vintner may be inspired to flavour with fruit, spices, herbs, even cereals or hops.
DISTILLATION (Maple eau-de-vie)
These spirits obtain their alcohol content by the distillation of a fermented maple wine. They contain more than 35% alcohol.
Eau-de-vie, otherwise known as brandy, may or may not be barrel-aged.
The maceration of plants, fruits, flavourings, and sugars in maple brandy has given rise to a wide range of maple spirits.
Acerum
Acerum is a certification reserved exclusively for spirits produced in accordance with the specifications of the Union des distillateurs de spiritueux d'érable. It means that the raw material originated in Québec, that it was produced in Québec, and that no sweetener, aromatic, or other substance was added after distillation. Acerum may or may not be aged in barrels.
BLENDING (OR FLAVOURING) (Products flavoured with maple)
Alcoholic products in this category include wine, cider, and whisky, to which maple syrup has been added. The beverage has been sweetened but its alcohol content has not increased by the addition of maple.
Maple cream is an example where distilled alcohol is mixed with maple syrup.
---
There are so many possibilities
There is outstanding potential for innovation with maple (as you can hopefully see from these examples) for the creation of new products and methods. The co-fermentation of maple and wild berries, blending maple wines with spirits, macerations, and personal experimentation with what is in your backyard or with other substances… does this open the door to your creativity and imagination?
Hundreds of Delicious Recipes
Maple is a special addition to any recipe, from appetizer to dessert. Find one that's perfect for you or your occasion!