Cheesy Spinach-Eggplant Lasagna with Maple-Caramelized Onions
---
Pasta / Recipes with Maple Syrup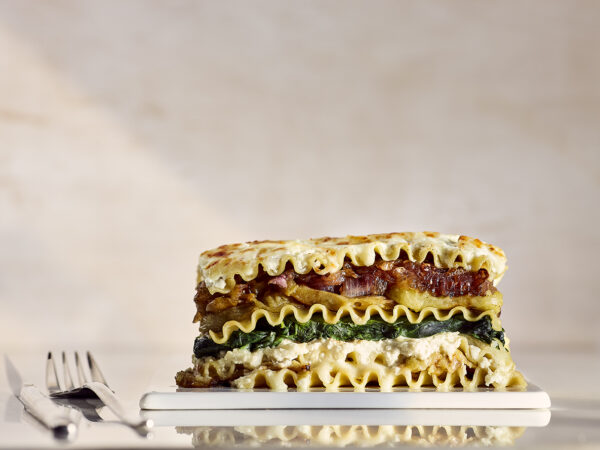 Ingredients
1

large eggplant, peeled and sliced

2 tbsp

olive oil

1 tsp

Italian seasoning
Salt and ground pepper

1 1/8 lb

box or 16 sheets lasagna pasta

1 tbsp

butter

3

medium red onions, sliced into rings

1/3 cup

white wine or cider

3 tbsp

balsamic vinegar

1/2 cup

maple syrup (preferably amber syrup, for its rich flavour)

1 lb

containers cottage cheese

3 cups

melting cheese (cheddar, mozzarella, gouda, or other firm cheese), grated

3/4 cup

cooked spinach, chopped and drained
Method
Preheat oven to 230° C (450° F).
Line a baking sheet with parchment paper and spread the eggplant slices on it. Drizzle with olive oil, sprinkle with Italian seasonings and salt and pepper. Bake 15 minutes. Set aside.
Meanwhile, in a large pot, cook the lasagna noodles according to package instructions.
Melt the butter in a large pan over medium heat and cook the onions 5 minutes. Season with salt and pepper.
Add the wine or cider, the balsamic, and maple syrup. Bring to a boil and simmer 10 minutes. Set aside.
After baking the eggplant, lower oven temperature to 180° C (350° F).
Layer the ingredients in your lasagna dish as follows: a little cottage cheese to cover the bottom; 4 lasagna sheets; half the eggplant; 80 g (3/4 cup) grated cheese; 4  lasagna sheets; half the cottage cheese; all the spinach; 4  lasagna sheets; the rest of the eggplant; all the onions with their liquid; 80 g (3/4 cup) grated cheese; 4  lasagna sheets; the rest of the cottage cheese, and; the rest of the grated cheese.
Bake 45 minutes.
Storing
The cooked lasagna will keep for 1 week in the fridge.
You can build this lasagna ahead of time, store it in the fridge, and bake it up to 2 days later. It may also be frozen this way.
The Quebec Maple Syrup Producers are not in any way responsible for the identification or presence of allergens in recipes or for the classification of any recipe as vegetarian or vegan.
Hundreds of Delicious Recipes
Maple is a special addition to any recipe, from appetizer to dessert. Find one that's perfect for you or your occasion!