Maple Lemon Cream Meringue Pie
---
Cooking with Maple Products / Desserts / Fancy Pastries / Recipes with Maple Sugar / Recipes with Maple Syrup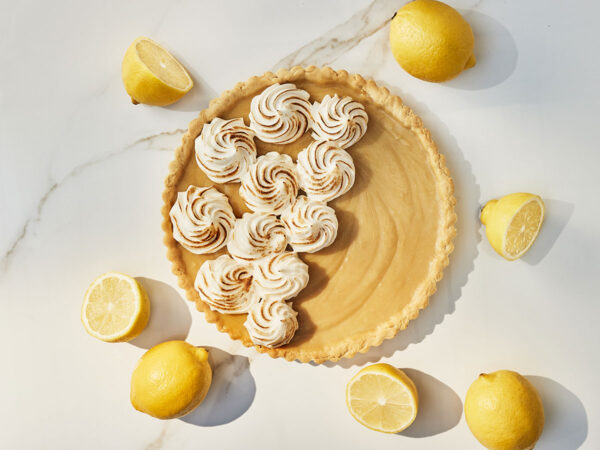 Ingredients
PIE SHELL
1/2 cup

unsalted butter

1/2 cup

fine maple sugar

1/4 cup

almond flour

1

pinch of salt

1

egg

2 cups

pastry flour, sifted
LEMON CREAM FILLING
3/4 cup

unsalted butter

1 cup

granulated maple sugar

3

fresh lemons, juiced

2

large eggs

1

lemon, zested
MAPLE ITALIAN MERINGUE
2

egg whites

1/2 cup

maple syrup (preferably dark syrup for its robust flavour)
Method
PIE SHELL
In the bowl of a stand mixer or food processor with a paddle attachment, combine the maple sugar, almond flour, and salt.
Add the egg, then the flour.
Knead the dough on a tabletop. Form into a rectangle and wrap with plastic wrap. Put into the fridge for at least 3 hours.
After resting time, preheat the oven to 180° C (350° F).
Take half the dough and roll it out on a floured surface. Place it in a 24-cm (9 1/2-inch) tart pan with a removable bottom, then prick holes in the bottom with a fork. Freeze the rest of the dough for another use.
Bake 7 – 10 minutes, then allow to cool before adding the lemon filling.
LEMON CREAM FILLING
In a saucepan, melt the butter, add half the maple sugar, then the lemon juice.
In a bowl, whip the eggs with the remaining sugar and the lemon zest.
Pour this hot mixture over the eggs, whisking to combine. Transfer back to the pan and cook, whisking vigorously, until bubbling.
Pour hot mixture through a sieve and let cool to room temperature.
Pour into the pie shell and allow to set in the refrigerator.
MAPLE ITALIAN MERINGUE
Beat egg whites in the bowl of a stand mixer or food processor with a whisk attachment.
Use a large saucepan (to avoid bubbling over) to heat the maple syrup until it reads 110° C (225° F) on a candy thermometer.
Drizzle the maple syrup over the egg whites, beating until cool.
Spread the meringue over the lemon filling. Brown with a crème brûlée torch or under the broiler, watching carefully (less than 2 minutes*).
REFRIGERATION TIME: At least 3 hours
STORAGE: This pie will stay for 3 days in the fridge or 1 month in the freezer (don't freeze the meringue).
*   More adventurous chefs may use a thin fluted tip to make attractive meringue rosettes, then brown. Decorate with the lemon zest.
The Quebec Maple Syrup Producers are not in any way responsible for the identification or presence of allergens in recipes or for the classification of any recipe as vegetarian or vegan.
Hundreds of Delicious Recipes
Maple is a special addition to any recipe, from appetizer to dessert. Find one that's perfect for you or your occasion!