Maple Yule Log with Candied Nuts
---
Cakes / Recipes with Maple Syrup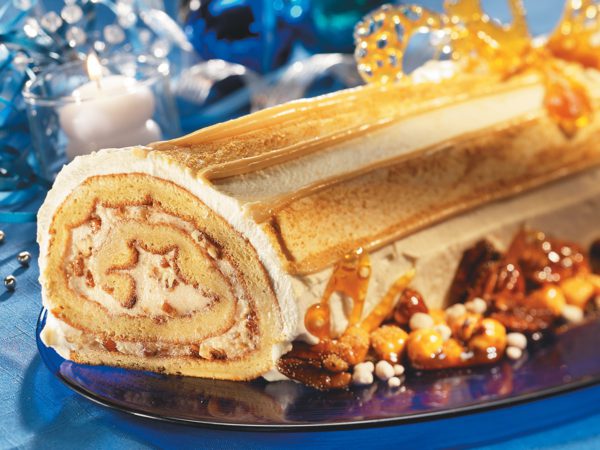 Ingredients
Cake
6

eggs, separated

2

egg yolks

1/2 cup

of maple sugar or maple syrup

1/3 cup

of unsalted butter, melted and cooled

2/3 cup

of flour

1 cup

of 35% cream

1/3 cup

of maple sugar or maple syrup

1/3 cup

of chestnut purée or chestnut cream

1

vanilla pod, split open and deseeded* or 3 ml (1/2 teaspoon) of vanilla extract
Other maple products (butter, sugar, chips, taffy, mini candy, etc.)
Candied nuts (see recipe below)
*Use only the seeds and keep the pod for another recipe.
Nuts
1/3 cup

of maple syrup

1 cup

of chopped nuts of choice
Method
Cake
Preheat the oven to 190 °C (375 °F).
Grease and flour a 25×45-cm (10×18-in) cookie sheet.
Beat all the egg yolks with the maple sugar. Gently stir in the melted butter. Sift the flour in.
Beat the egg whites until stiff and gently fold in to the egg yolk mixture. Do not over stir.
Spread the batter on the baking sheet and bake in the middle of the oven rack for 10 to 12 minutes until the cake is slightly golden in colour.
Flip the cake onto a damp cloth and roll up. Let cool.
Whip the cream and sweeten with your choice of maple product (sugar or syrup). Keep half of this mixture aside for the glaze.Take the other half and add to it the chestnut purée (or cream) and vanilla.
Unroll the cooled cake. If you wish, you may baste it with maple syrup. Spread the chestnut cream over the cake and top with candied nuts.
Roll the cake up lengthwise. Glaze with the whipped maple cream and decorate with candied nuts and your choice of maple products (chips, mini candy, etc.) Refrigerate until ready to serve.
Nuts
Heat the nuts on low heat in a small frying pan, to bring out their flavour and crunch.
Remove from heat and sprinkle with maple syrup.  Return to heat and continue cooking until the sugar crystallizes and sticks to the nuts.
BE CAREFUL! At this point, the nuts will be very hot! Do not touch!
Quickly transfer the nuts onto a cooling plate.  (To make it easier to clean the pan, boil hot water in it)
* This cake can be baked 24 to 48 hours in advance. Keep it wrapped in a damp cloth and cellophane wrap or in an airtight container. Ideally, the cake should be assembled on the day of serving to ensure that the nuts are crunchy.
* You can prepare the nuts a few days ahead. Keep them in a fresh and dry place.
The Quebec Maple Syrup Producers are not in any way responsible for the identification or presence of allergens in recipes or for the classification of any recipe as vegetarian or vegan.
Hundreds of Delicious Recipes
Maple is a special addition to any recipe, from appetizer to dessert. Find one that's perfect for you or your occasion!