Québécois Pâté Chinois with a Hint of Maple
---
Beef / Recipes with Maple Syrup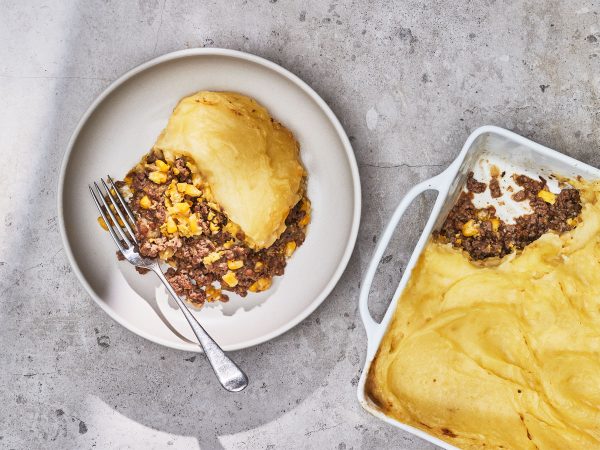 Ingredients
6

medium yellow potatoes, peeled and cut into large cubes

1 tbsp

salt

2 tbsp

butter

1/4 cup

milk

1/2 tsp

salt

1 tbsp

olive oil

1

small onion, minced finely

3/4 lb

extra-lean ground beef

1

540 ml (19 oz) can of lentils, rinsed and drained

2 tbsp

low-sodium soy sauce

2 tbsp

water

1 tbsp

maple syrup (preferably golden syrup for its delicate flavour)

2 tsp

Worcestershire sauce

1 tbsp

ground cumin

2 tbsp

herbes de Provence
Pepper, to taste

3 cups

frozen corn

2 tbsp

water
Method
Put potatoes into a pot and submerge in water. Add 20 g (1 tbsp) salt, cover, and bring to the boil. Reduce heat and cook about 20 minutes or until tender.
Drain potatoes, then add the butter, the milk, and 3 g (1/2 tsp) salt. Use a masher or hand mixer to reduce to a purée.
While the potatoes are cooking, heat the oil in a large skillet, and sauté the onion for 2 – 3 minutes over medium-high heat.
Add the ground beef and break it into small chunks with a wooden spoon. Brown for 3 – 4 minutes without stirring.
Add the lentils, soy sauce, water, maple syrup, Worcestershire sauce, cumin, and herbes de Provence. Season with pepper to taste. Simmer 5 minutes to allow the flavours to mingle and the liquid to evaporate.
In a microwave-safe dish, combine half the corn with the water. Cover with plastic wrap and cook 3 minutes. Do not drain. Purée in a blender or food processor.
Position a rack in the centre of the oven. Preheat to 180° C (350° F).
Spread the beef-lentil mixture in a rectangular baking dish, about 20 cm x 25 cm (8 in x 10 in). Cover with the corn purée, then the corn kernels. Spread the mashed potatoes over all.
Bake 20 minutes.
The Quebec Maple Syrup Producers are not in any way responsible for the identification or presence of allergens in recipes or for the classification of any recipe as vegetarian or vegan.
Hundreds of Delicious Recipes
Maple is a special addition to any recipe, from appetizer to dessert. Find one that's perfect for you or your occasion!