Maple Wood Smoked Hot Dogs
---
Beef / Main Courses / Pork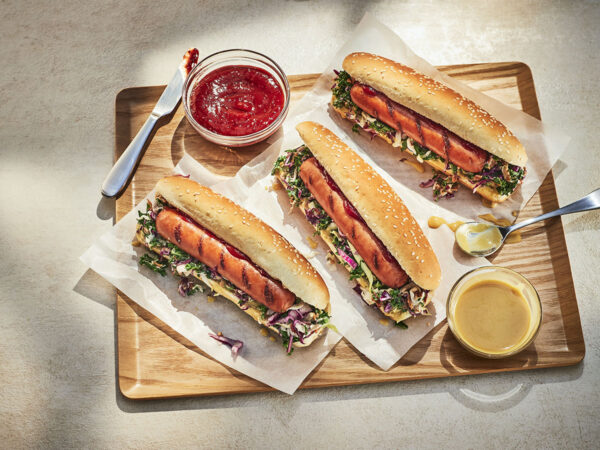 Ingredients
MAPLE VINEGAR CABBAGE SLAW
1/2 cup

home-made mayonnaise

2 tbsp

hot mustard

2

cloves of garlic, minced

2 tbsp

maple vinegar

2 cups

kale, thinly sliced

2 cups

red cabbage, thinly sliced

2 cups

green cabbage, thinly sliced

6

strips of bacon, cooked and crumbled
Salt and pepper
MAPLE KETCHUP
4

French shallots, peeled and minced

1 tbsp

oil

2

bay leaves

1 tbsp

coriander seeds, crushed
Salt and pepper

4

tomatoes, cut into eighths

1

clove of garlic, minced

2 1/2 cups

fresh blackcurrants or frozen cranberries

1/2 cup

maple syrup

1/2 cup

maple vinegar
MAPLE MUSTARD
6 tbsp

hot or prepared mustard, to your taste

2 tbsp

maple syrup
HOT DOGS
8

artisan hot dog buns (a bit larger than regular buns)

8

maple wood smoked sausages (or 8 plain Toulouse-style sausages, maple wood smoked on your barbecue*)
Method
MAPLE VINEGAR CABBAGE SLAW
Combine mayonnaise, mustard, garlic, and maple vinegar in a bowl. Add the kale, red cabbage, green cabbage, and bacon. Season with salt and pepper and mix well. Put in the fridge to marinate for 30 minutes.
MAPLE KETCHUP
In a saucepan over low heat, sauté the French shallots in the oil.
Once the shallots are sweating, add the bay leaves, then the coriander seeds (in cheesecloth or a tea infuser), and season with salt and pepper.
Now add the tomatoes, garlic, and the blackcurrants or cranberries. Simmer for 5 minutes, then add the maple syrup and maple vinegar.
Reduce over low heat for about 10 minutes. Remove the bay leaves and the cheesecloth or tea infuser with the coriander seeds, then adjust the seasoning. Purée the ketchup in a food processor or with a stick blender, or leave it chunky as is.
MAPLE MUSTARD
Combine the mustard and maple syrup.
HOT DOGS
Grill the sausages on the barbecue at 180° C – 200° C (350° F – 400° F). If using plain sausages, smoke them with maple wood chips*.
Grill the buns, and serve your hot dogs with the three maple garnishes.
MARINATING TIME: 30 minutes
* Soak 1 cup of maple wood chips in water for 1 hour. Drain, then place into a small disposable aluminum dish. Cover with aluminum foil and seal tightly. Make a hole in the cover and put dish on the barbecue at high heat. When the barbecue is smoking vigorously, put the sausages on to cook.
The Quebec Maple Syrup Producers are not in any way responsible for the identification or presence of allergens in recipes or for the classification of any recipe as vegetarian or vegan.
Hundreds of Delicious Recipes
Maple is a special addition to any recipe, from appetizer to dessert. Find one that's perfect for you or your occasion!