Rabbit Confit and Swiss Chard Gratin with Maple Syrup and Louis d'Or
---
Game / Recipes with Maple Syrup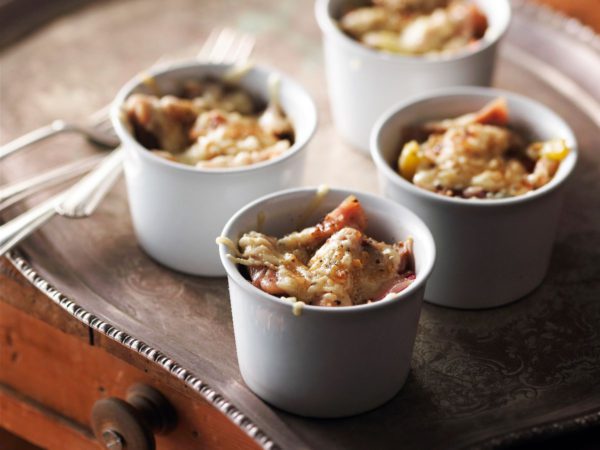 Ingredients
4 cups

Swiss chard stems*, cut in 5 cm (2 in) chunks

3

confit rabbit** legs (homemade or purchased)

1 cup

250 ml (1 cup) demi-glace

1/4 cup

light maple syrup

1 tablespoon

lemon juice

1/2 cup

Louis d'Or cheese, coarsely grated

2 tablespoons

maple flakes

1 tablespoon

cracked black pepper

2 tablespoons

butter
Salt to taste
Method
Preheat the oven to 200 ºC (400 ºF).
Blanch the Swiss chard stems in boiling salted water for 2. Shock them under cold water. Drain and set aside.
Remove the meat from the rabbit legs and shred it. Set the shredded meat aside.
In a bowl, combine the demi-glace with the maple syrup and lemon juice. Set aside.
Combine the cheese, maple flakes and cracked pepper. Set the maple-cheese mixture aside.
Butter 4 small gratin dishes. Assemble the gratins.
Start with a layer of Swiss chard stems. Season with salt.
Add a layer of shredded rabbit. Cover with a second layer of Swiss chard.
Drizzle with one quarter of the maple sauce and top with one quarter of the maple-cheese mixture. Repeat with the other ramekins and bake for 8 (or broil for 2).
*Save the leaves (you can cook them as you would spinach).**Confit duck legs can be substituted.
The Quebec Maple Syrup Producers are not in any way responsible for the identification or presence of allergens in recipes or for the classification of any recipe as vegetarian or vegan.
Hundreds of Delicious Recipes
Maple is a special addition to any recipe, from appetizer to dessert. Find one that's perfect for you or your occasion!