Butternut Squash Soup with Maple-Pancetta Garnish
---
Recipes with Maple Syrup / Soups / Thick Soups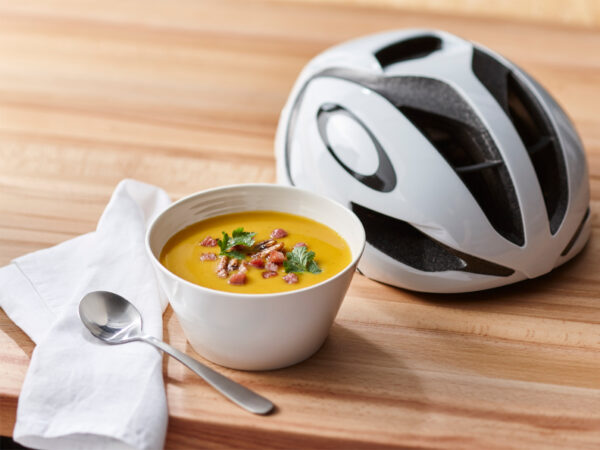 Ingredients
Potage
1

large onion, coarsely chopped

3

cloves garlic, peeled and coarsely chopped

1 tbsp

canola oil

1 tbsp

maple syrup (preferably amber syrup for its rich flavour)

1

butternut squash, about 1 kg (2 1/4 lb), peeled and cubed

4 cups

vegetable broth
Garniture
1/2 cup

walnuts, halved

6 oz

pancetta, diced

2 tbsp

maple syrup
Fresh coriander (optional)
Method
Preheat oven to 200° C (400° F).
Soup
In a saucepan over medium heat, sauté the onion and garlic in the oil for about 2 minutes.
Add the maple syrup and squash cubes, stir, then cook for 2 minutes.
Pour in the vegetable broth and add your spices. Bring to a boil. Cover, reduce heat, and simmer for 15 – 20 minutes or until the squash is tender.
Garnish
Meanwhile, in a bowl, combine the nuts, pancetta, and maple syrup.
Spread the mixture on a baking sheet lined with parchment paper.
Put in oven for 12 minutes or until the pancetta is crispy. Set aside.
Final Prep
Using a hand blender, bring the soup to a smooth texture.
Serve in bowls, garnished with the maple-pancetta-nut mixture, and a few leaves of coriander, if desired.
For after exercise
Nutritional Value per Serving
Calories: 360 kcal
Fat: 20 g
Carbohydrates: 33 g
Fibre: 5 g
Protein: 14 g
The Quebec Maple Syrup Producers are not in any way responsible for the identification or presence of allergens in recipes or for the classification of any recipe as vegetarian or vegan.
Hundreds of Delicious Recipes
Maple is a special addition to any recipe, from appetizer to dessert. Find one that's perfect for you or your occasion!