Hint-of-Maple Gazpacho
---
Recipes with Maple Syrup / Soups / Thick Soups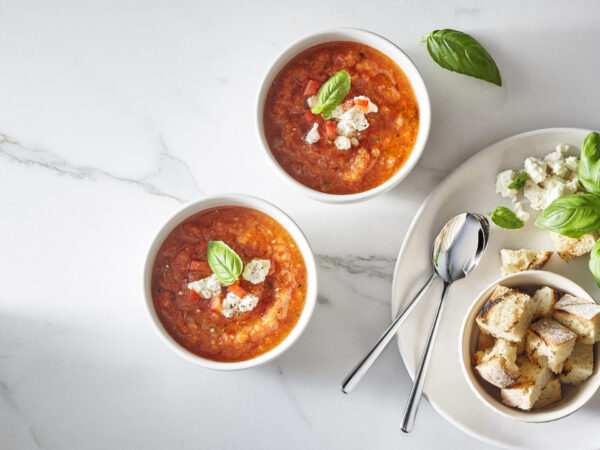 Ingredients
GAZPACHO
10

Italian tomatoes

1 cup

stale bread, crusts removed, cubed

1/4 cup

vegetable or chicken broth

1

red, yellow, or orange pepper, cubed*

1/2

English cucumber, peeled, seeded, cubed

1

French shallot, coarsely chopped

3 c. à soupe

olive oil

2 tbsp

maple syrup (preferably golden syrup for its delicate flavour)

1 tbsp

wine vinegar
Salt and pepper, to taste
GARNISH
1 tbsp

olive oil

1 tbsp

maple syrup (preferably golden syrup for its delicate flavour)

2 tbsp

sweet pepper, minced*

2 tbsp

feta cheese, crumbled
Herbs (optional)
Method
GAZPACHO
Peel the tomatoes. To do this, make a shallow X-shaped incision in the bottom of each tomato. Immerse tomatoes in a large pot of boiling water for 30 seconds to 1 minute, until the skins start to come away. Use a slotted spoon to remove tomatoes and let them cool before peeling, cutting, and deseeding.
Pour the broth into a bowl and soak the bread cubes in it for 5 minutes.
Put soaked bread into a blender with all remaining gazpacho ingredients. Purée until smooth.
Season with salt and pepper to taste. Refrigerate 2 hours or until cold.
GARNISH
Pour the oil and syrup for the garnish into a small, lidded container. Close and shake vigorously.
PRESENTATION
Portion gazpacho into your bowls. Garnish with the diced pepper and crumbled feta. Drizzle with some of the oil-syrup mixture. Sprinkle with herbs (parsley, basil, etc.), if desired.
REFRIGERATION TIME: 2 hours
* Use most of the pepper for the soup, saving some minced bits for the garnish.
The Quebec Maple Syrup Producers are not in any way responsible for the identification or presence of allergens in recipes or for the classification of any recipe as vegetarian or vegan.
Hundreds of Delicious Recipes
Maple is a special addition to any recipe, from appetizer to dessert. Find one that's perfect for you or your occasion!