Duck and Apple Sauté with Maple Syrup Sauce
---
Duck / Recipes with Maple Syrup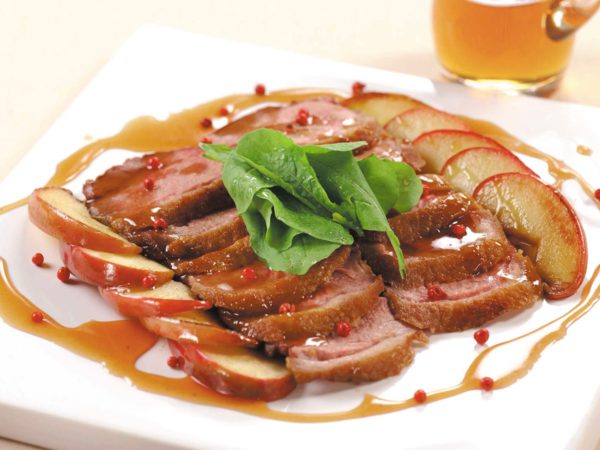 Ingredients
2

duck breasts

1

apple

3 tablespoons

apple wine (or white wine)

3/8 cup

bouillon

2 tablespoons

maple syrup (Amber)

1/2 oz

butter
Pink peppercorns, to taste
Cooking oil
Salt and pepper
Method
Rub the duck with 5 ml (1 teaspoon) of salt and some pepper and set aside to rest.
Cut the apple into 8 equal wedges, leaving the skin on.
Warm up cooking oil in a frying pan, place the duck in the pan skin side down, and cook slowly over low to medium heat.
Turn over and cook to desired doneness. Remove from the pan and cover with a bowl or something to retain the heat.
Remove excess oil from the pan and cook apples. Remove when they are slightly softened.
Add white wine to the pan, let the alcohol evaporate, and add bouillon.
Cook until reduced by half, add maple syrup, and adjust flavor with salt and pepper. Finish by adding butter.
Slice the duck into thin slices and plate.
Garnish with the cooked apples, pour the sauce over, and scatter pink peppercorns over the top.
The Quebec Maple Syrup Producers are not in any way responsible for the identification or presence of allergens in recipes or for the classification of any recipe as vegetarian or vegan.
Hundreds of Delicious Recipes
Maple is a special addition to any recipe, from appetizer to dessert. Find one that's perfect for you or your occasion!