Five-Spice Maple-Glazed Duck Breasts
---
Duck / Recipes with Maple Syrup / Recipes with Maple Vinegar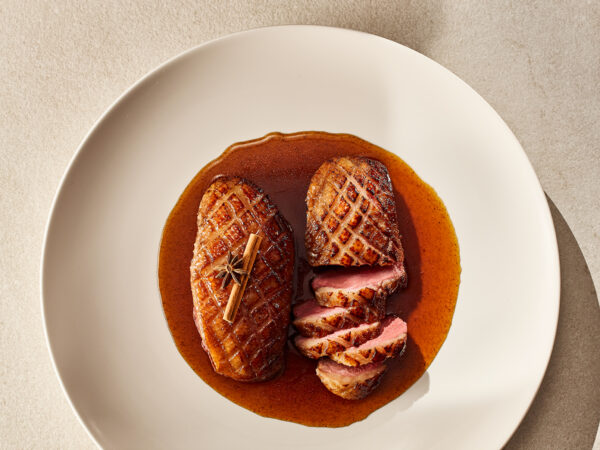 Ingredients
2

duck breasts

7 tbsp

maple syrup (preferably amber syrup for its rich flavour)

7 tbsp

soy sauce

7 tbsp

orange juice

1

clove garlic, minced

3/8 in

piece of fresh ginger, grated

1 tsp

maple vinegar (or rice vinegar)

1 tsp

five spice powder
Method
Trim the duck breasts and make cross-cuts in the skin.
Mix all other ingredients in a bowl. Add the breasts and marinate overnight.
After 8 – 12 hours in the fridge, remove breasts from the marinade. Reserve the marinade.
Preheat oven to 180° C (350° F).
Place duck breasts skin side down in a skillet. Turn heat on low to allow the fat to melt and the skin to crisp, 8 – 10 minutes.
Meanwhile, reduce the marinade by half in a saucepan.
Turn the breasts flesh side down for 2 minutes, then finish cooking them in the oven for about 5 minutes. During cooking, glaze with the marinade. Reduce the marinade by another one-third. If you find the reduction too salty, add a little water.
After removing from oven, let the breasts rest for 5 minutes, then slice finely.
Serve with a spoonful of marinade.
Refregeration time: 8 – 12 hours
The Quebec Maple Syrup Producers are not in any way responsible for the identification or presence of allergens in recipes or for the classification of any recipe as vegetarian or vegan.
Hundreds of Delicious Recipes
Maple is a special addition to any recipe, from appetizer to dessert. Find one that's perfect for you or your occasion!