Maple Marzipan Cake
---
Cakes / Recipes with Maple Sugar / Recipes with Maple Syrup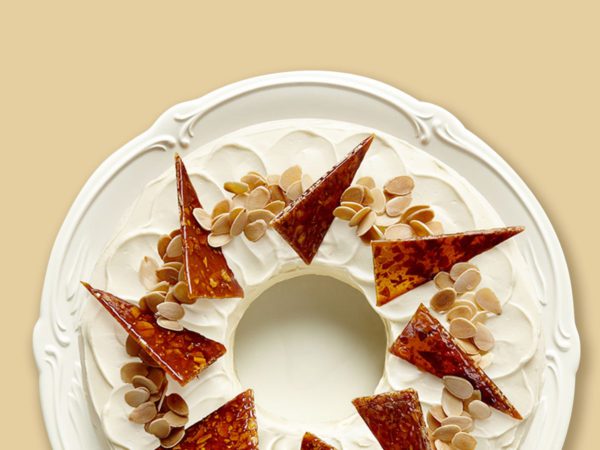 Ingredients
Maple and Marzipan Cake
1 cup

almond paste or marzipan

6

eggs

1 cup + 2 tablespoons

maple sugar

1/2 cup

maple syrup (preferably dark syrup for its robust flavour)

1 cup

flour

1 teaspoon

baking powder

1

Pinch of salt

1 cup

unsalted butter, softened
Maple Pastry Cream
1 cup

milk

3

egg yolks

1/4 cup

maple sugar

3 tablespoons

all-purpose flour

1 tablespoon

maple syrup

1 tablespoon

cornstarch

1 tablespoon

unsalted butter
Swiss Meringue with Maple Taffy
1

tub of 225 g (1/2 lb) maple taffy

3

egg whites

1

pinch of fine salt

1 tablespoon

lemon juice
Maple-Almond Nougatine and Toasted Almonds
1/2 cup

maple sugar

3 tablespoons

water

2 tablespoons

maple syrup

1/2 cup

sliced almonds
Sliced almonds, toasted (for decoration)
Method
Maple and Marzipan Cake
Preheat oven to 160 °C (325 °F).
In a food processor, mix marzipan and egg, adding one egg at a time until you obtain a uniform texture. (If almond paste is too hard and difficult to work with, heat 30 seconds in microwave to soften.)
Transfer to a stand mixer with beater or use an electric mixer, add sugar and maple syrup.
Sift flour, baking powder and salt together, then add them to almond mixture. Stir in melted butter.
Butter two 25-cm (10-in) cake tins and line bottom with parchment paper. Divide batter between tins and bake in oven for 45 to 50 minutes.
Remove cakes from oven and from tin upside down onto a rack. Slide a knife between cake and tin sides if necessary. Let rest at least 1 hour. Once both layers have cooled, cut out a 9.5-cm (4-in) hole in centre of each layer with a cookie cutter.
To make room for the filling, cut out a channel all around one of cake layers by removing sponge from centre. Fill channel with chosen filling. Place other layer on top and press lightly to ensure both layers are stable and aligned.
Maple Pastry Cream
In a saucepan, bring milk to a gentle boil.
In a bowl, beat egg yolks, maple sugar, flour, maple syrup and corn starch until uniform. Pour hot milk gently over mixture and beat in well. Make sure mixture is smooth and free of lumps.
Return to the saucepan and bring to a boil over medium heat, stirring constantly. Once mixture has thickened, remove from heat, add butter and mix until creamy.
Pour into a bowl, cover with plastic wrap making sure wrap is in direct contact with surface of cream. Refrigerate at least 3 hours until cream sets.
Pour into a pastry bag with a #5 plain tip and fill cake.
Swiss Meringue with Maple Taffy
Add maple taffy to a saucepan and bring to a boil over high heat. Immediately reduce heat to low and simmer 3 minutes.
Add egg whites and salt to a bowl, then place bowl on top half of a double boiler. Make sure the bottom of the bowl does not touch the water and that the water boils very gently. Using a hand mixer, beat on low speed. Drizzle hot taffy in, increasing the speed gradually. Beat 5 to 10 minutes or until stiff peaks form.
Remove meringue from heat, add lemon juice and beat another minute. Ice the cake immediately.
Maple-Almond Nougatine and Toasted Almonds
Preheat oven to 180 °C (350 °F).
Line a cookie sheet with parchment paper. Prepare a second sheet of the same size for covering the nougatine later.
In a heavy-bottomed saucepan, combine maple sugar, water and maple syrup, then bring to a boil. Heat until temperature reads 170 °C (338 °F) on a candy thermometer.
Remove from heat and add all sliced almonds into saucepan. Mix well to coat almonds thoroughly, then spread them out on prepared cookie sheet. Place second sheet of parchment over the hot nougatine. Place cookie sheet on countertop or a cutting board, then, using a rolling pin, press down directly on parchment paper and roll nougatine until thin, smooth and uniform.
If nougatine begins to set, place in oven on the cookie sheet for 2 to 3 minutes to reheat.
Slide nougatine onto a cutting board and cut it into triangles with a sharp knife or metal cookie cutter.
Decorate cake artistically with nougatine triangles and toasted almonds.
Makes: 1 cake (25 cm /10 in) with 2 layers.
To view all Festive maple wreaths recipes, click here !
The Quebec Maple Syrup Producers are not in any way responsible for the identification or presence of allergens in recipes or for the classification of any recipe as vegetarian or vegan.
Hundreds of Delicious Recipes
Maple is a special addition to any recipe, from appetizer to dessert. Find one that's perfect for you or your occasion!