Maple Angel Food Cake
---
Cakes / Recipes with Maple Sugar / Recipes with Maple Syrup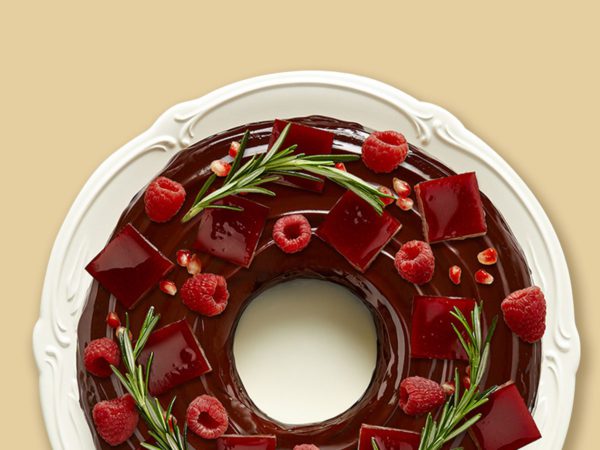 Ingredients
Bottom layer
1 cup + 2 tablespoons

maple sugar

8

egg whites

1 teaspoon

vanilla extract

1

Pinch of salt

1 teaspoon

cream of tartar

2/3 cup

plain white flour
Top layer
1/2 cup+ 1 tablespoon

maple sugar

4

egg whites

1/2 teaspoon

vanilla extract

1/2 teaspoon

cream of tartar

1/3 cup

plain white flour
Maple-Raspberry Jam
1/2 cup

maple syrup (preferably amber syrup for its rich flavour)

2 tablespoons

cornstarch

1 1/4 cup

frozen raspberries, defrosted

1/2 teaspoon

vanilla extract
Zest of half an orange
Dark chocolate and maple icing
8.8 oz

dark chocolate

1/2 cup

maple syrup

1/2 cup

unsalted butter, cut in cubes
Maple-raspberry jelly, Pomegranate seeds and fresh Rosemary
1 1/2

sheets gelatin

1/2 cup

raspberry puree or juice

2 tablespoons

maple sugar
Pomegranate seeds (for decoration)

1 tablespoon

pure maple water
Fresh raspberries (for decoration)

3

sprigs fresh rosemary (for decoration)
Method
Maple Angel Food Cake
Preparing the bottom layer
Preheat oven to 180 °C (350 °F).
In the bowl of an electric mixer, combine half the maple sugar with egg whites, vanilla, salt and cream of tartar. Beat until stiff peaks form.
In a second bowl, sift flour and mix in remaining maple sugar. Add egg whites mixture. Fold in gently with a spatula until a smooth batter forms. (Avoid over-mixing, otherwise batter will lose its air bubbles and cake will not rise properly.)
Pour batter into a 25-cm (10-in) cake tin and bake 20 to 25 minutes or until cake is a nice golden brown and detaches from sides of tin.
Remove cake from oven and from tin upside down onto a rack. Slide a knife between cake and tin sides if necessary. Let rest at least 1 hour.
Once cake has cooled, cut out a 9.5-cm (4-in) hole in centre of cake with a cookie cutter. To make room for the filling, cut out a channel all around hole by removing sponge from centre.
Preparing the top layer
Preheat oven to 180 °C (350 °F).
To make top layer, follow same steps as for bottom layer, but bake cake for 15 minutes only. Cut out the same hole in middle of cooled cake, but do not cut out channel.
Once bottom layer has been filled with filling of your choice, place top layer on top and press lightly to ensure both layers are stable and aligned.
Maple-Raspberry Jam
In a large saucepan, whisk maple syrup and cornstarch together.
Add raspberries, vanilla and orange zest, bring to a boil and reduce to medium heat until thickened, stirring regularly.
Remove from heat, pour into a bowl and cover with plastic wrap. Let cool at least 3 hours before filling cake.
Dark Chocolate and Maple Icing
Place chocolate and maple syrup in a bowl, then place bowl over another with boiling water. Make sure the bottom of the bowl does not touch the water. Whisk until chocolate has melted.
Remove bowl from water bath and add cubes of butter, whisking until butter has completely melted.
Place cake on a rack and glaze immediately with hot ganache.
Note: If ganache solidifies, melt again in a saucepan over low heat and use promptly.
Maple-Raspberry Jelly, Pomegranate Seeds and Fresh Rosemary
Soften gelatin in a little cold water and set aside.
In a saucepan, mix raspberry puree or juice with sugar and maple water, then bring to a boil. Once boiling, add softened gelatin sheets and mix well with a whisk. If using fresh raspberry puree, sieve puree to remove seeds first.
Line a 10-cm (4-in) square tin with plastic wrap, making sure to leave extra wrap hanging over sides to create "handles". Pour mixture into tin. Leave to chill in the refrigerator at least 3 hours.
Once jelly has set, remove by gently pulling up plastic wrap. Try to avoid damage.
Cut all 4 edges of jelly to make nice smooth sides, then cut jelly into 3 cm (1 1/8 in) cubes. Refrigerate until ready to decorate cake.
Decorate cake with cubes of jelly, pomegranate seeds, fresh raspberries and sprigs of rosemary.
Makes: 1 cake (25 cm /10″) with 2 layers.
To view all Festive maple wreaths recipes, click here !
The Quebec Maple Syrup Producers are not in any way responsible for the identification or presence of allergens in recipes or for the classification of any recipe as vegetarian or vegan.
Hundreds of Delicious Recipes
Maple is a special addition to any recipe, from appetizer to dessert. Find one that's perfect for you or your occasion!