Maple-Asparagus Fougasse
---
Bread / Recipes with Maple Syrup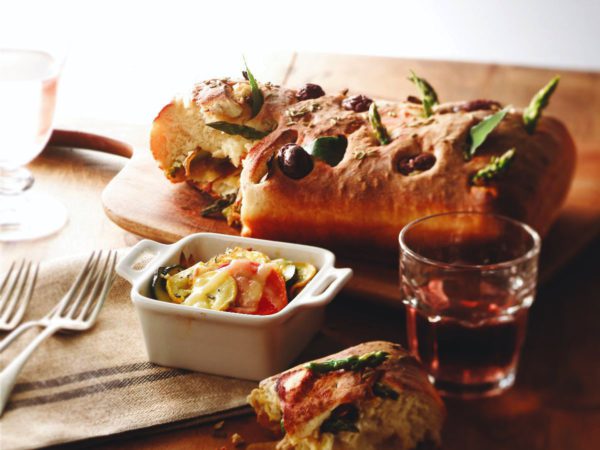 Ingredients
6

rashers of bacon, cubed

1

large onion, sliced

3/8 cup

maple syrup (preferably golden syrup for its delicate flavour)

2

bunches of asparagus, cut into small pieces
Salt and pepper, to taste

2 cups

warm water

5 cups

all-purpose flour

2 teaspoons

instant dry yeast

2 teaspoons

salt
Oil, as needed

2 teaspoons

fennel seeds

12

black olives, pitted
Bay leaves (or rosemary sprigs), to taste
Method
In a large frying pan, brown the bacon over a medium heat. Add the onion and sweat for 1 minute.
Add 60 ml (1/4 cup) maple syrup, the asparagus, and season with salt and pepper. Cook for 2, stirring often. Remove from the heat and set the maple-asparagus filling aside. (Reserve a few asparagus heads for decoration.)
In a large bowl, add the remaining maple syrup, the water, flour, yeast and salt, and mix to a soft dough (add more flour if it is too wet).
On a work surface dusted with flour, knead the dough for about 5 minutes until it becomes elastic and smooth. Form into a ball and place in a clean, lightly oiled bowl. Cover the bowl with a damp cloth and leave to rest at room temperature, away from draughts, for about 10 minutes.
Punch down the dough and form into a 43×30-cm (17×12-in)* rectangle. Put the maple-asparagus filling in the centre. Fold in the ends of the dough to enclose the filling, then roll the dough over itself to form a cylinder. Using a rolling pin, flatten the cylinder before placing in an oiled 33×23-cm (13×9-in) tin.
Sprinkle with fennel seeds and herbs, and place some black olives and asparagus heads all over for decoration. Leave to rise, uncovered, at room temperature and away from draughts, for about 1 hour.
Preheat the oven to 220 °C (425 °F).
Bake for 10 minutes, then reduce the temperature to 190 ºC (375 ºF) and bake for another 30 minutes.
Remove from the tin and eat on its own with a drizzle of olive oil.
If you want 2 small fougasse, divide the dough into two balls at this step. Follow the remaining steps for each fougasse.
The Quebec Maple Syrup Producers are not in any way responsible for the identification or presence of allergens in recipes or for the classification of any recipe as vegetarian or vegan.
Hundreds of Delicious Recipes
Maple is a special addition to any recipe, from appetizer to dessert. Find one that's perfect for you or your occasion!