Maple Harvest Bread
---
Bread / Cooking with Maple Products / Recipes with Maple Syrup / Snacks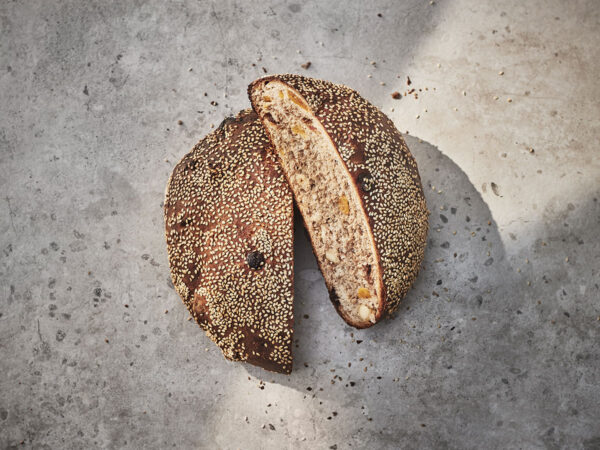 Ingredients
3/4 cup

organic dried apricots, coarsely chopped

2 3/4 cups

water

1/2 cup

maple syrup (preferably dark syrup for its robust flavour)

10 cups

whole wheat flour, sifted

2 1/2 tsp

salt

1/3

packet (1 g) dry yeast

3/4 cup

hazelnuts, chopped coarsely

1/2 cup

dried dates, pitted

1/2 cup

candied orange slices, chopped coarsely

1/2 cup

chocolate drops

6 tbsp

sesame seeds
Method
In a large bowl, soak the apricots for at least 24 hours in the maple syrup and water called for in the ingredients list.
The next day, remove the apricots from the soaking liquid and set them aside. Mix the flour into the apricot soaking liquid and let it stand for 1 hour.
Add all the other ingredients (except the sesame seeds) to the flour and liquid mixture. Knead for 5 minutes. Let this rest for 1 hour, then shape into a flap. Ferment for 16 – 18 hours at 18° C (64° F).
The next day, lightly flour your work surface. Divide the dough into 5 parts of 450 g (16 oz) each and form them to fit the dimensions of medium-sized loaf pans.
Put each dough into sesame seeds, then into the loaf pans. Set aside to rise for 1½ hour.
Preheat oven to 220° C (425° F).
Bake loaves for 25 – 30 minutes.
MACERATION TIME: 24 hours
RESTING AND FERMENTATION TIME: 19 – 21 1/2 hours
YIELD: Five 450 g (16 oz) loaves
The Quebec Maple Syrup Producers are not in any way responsible for the identification or presence of allergens in recipes or for the classification of any recipe as vegetarian or vegan.
Hundreds of Delicious Recipes
Maple is a special addition to any recipe, from appetizer to dessert. Find one that's perfect for you or your occasion!