Maple Fougasses
---
Bread / Recipes with Maple Syrup / Snacks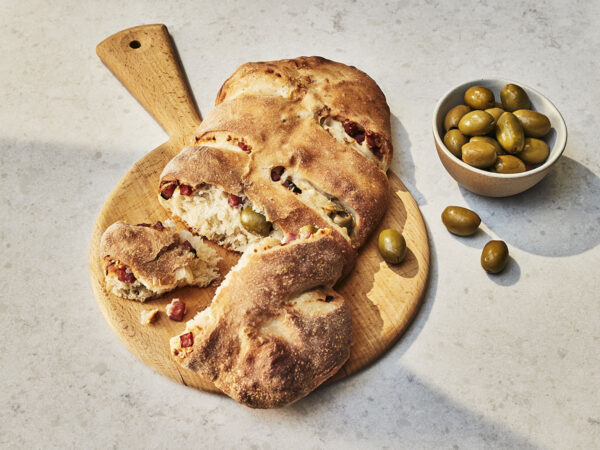 Ingredients
7 cups

unbleached all-purpose flour

3 cups

water, at 25° C (77° F)

2 1/2 tsp

salt

1 g

fresh yeast

1/2

French shallot, minced

1 1/3 cup

cooked ham, cut into small pieces

1/2 cup

pitted green olives

2 tbsp

maple syrup (preferably dark syrup for its robust flavour)

1 1/4 cup

Swiss cheese, grated
Method
Mix the flour and water and let rest 1 hour.
Add the salt and yeast, and knead for 5 minutes. Let rest for another hour.
Fold the dough and set aside to ferment for 16 hours at 18° C (65° F).
Meanwhile, in a skillet, prepare the filling by sautéing the shallot, ham, and olives. Then pour in the maple syrup to caramelize the mixture. Let cool, then add the cheese and put in the fridge.
After the dough has fermented, divide it into 5 parts of 340 g (3/4 lb) each and shape them into loosely packed balls. Let rest for 30 minutes.
Roll dough balls out by hand on your work surface and put filling into the centre of each. Close into bundles and let them rest for 1 hour on your work surface, smooth sides up.
Stretch the dough bundles by hand into oval shapes about 20 cm (8 in) long. Then use a dough cutter to make 4 or 5 parallel slits in the ovals, and gently stretch them to create openings.
Preheat oven to 230° C (450° F).
Put parchment paper onto a pizza stone or baking sheet and arrange dough ovals on it. Bake 20 minutes.
Remove from oven and brush with maple syrup. Let cool before serving.
RESTING TIME: 19.5 hours
YIELD: 5 fougasses
STORAGE: Freezes very well. Let thaw for 20 minutes on the counter, then heat in oven for 5 minutes.
The Quebec Maple Syrup Producers are not in any way responsible for the identification or presence of allergens in recipes or for the classification of any recipe as vegetarian or vegan.
Hundreds of Delicious Recipes
Maple is a special addition to any recipe, from appetizer to dessert. Find one that's perfect for you or your occasion!