Maple Milk Bread Rolls
---
Bread / Snacks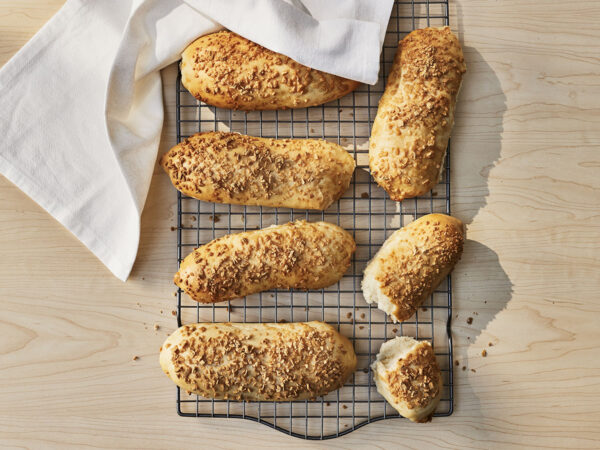 Ingredients
3 2/3 cups

all purpose flour

5 tbsp

maple sugar

1 cup

milk, heated for 30 seconds in the microwave

1/2 tbsp

fine salt

1

sachet (8 g) of dry yeast

1

whole egg

1/4 cup

butter, at room temperature

1

egg and a little milk to make the egg wash
Chunks of maple sugar for garnish
Method
Put 35 ml (1/8 cup) hot water into a small bowl and add the yeast.
Use a food processor to blend the flour, sugar, milk, salt, egg, butter, and yeast. The dough should be soft and consistent, and come away from the bowl.
Heat the oven for 3-4 minutes, turn it off, and put in a bowl of water.
Fold the dough over itself several times, cover with a damp cloth, and put in the oven for an hour until it doubles in size.
Transfer it to the fridge and leave for a few hours (or overnight).
On a lightly floured work surface, divide the dough into 12 parts.
Use a pin to roll them into rectangles. Fold them over a few times, then shape into rolls.
Line a baking sheet with parchment paper. Arrange rolls on it and brush them with egg wash, then sprinkle with the maple sugar chunks. Leave to rise by 50% in a warm (25° C) room.
Place the rack below centre position in the oven and preheat to 160° C (325° F)
Place rolls in oven and bake for 15 – 20 minutes until nicely browned, making sure the bottoms don't burn. Double the baking sheet to prevent this, if necessary.
Allow to cool on a rack.
RESTING TIME: 2 hours
REFRIGERATION TIME: A few hours or overnight
The Quebec Maple Syrup Producers are not in any way responsible for the identification or presence of allergens in recipes or for the classification of any recipe as vegetarian or vegan.
Hundreds of Delicious Recipes
Maple is a special addition to any recipe, from appetizer to dessert. Find one that's perfect for you or your occasion!