Maple-Lacquered Duck Magrets with Meat Juices and Oyster Mushrooms
---
Duck / Recipes with Maple Spirits / Recipes with Maple Syrup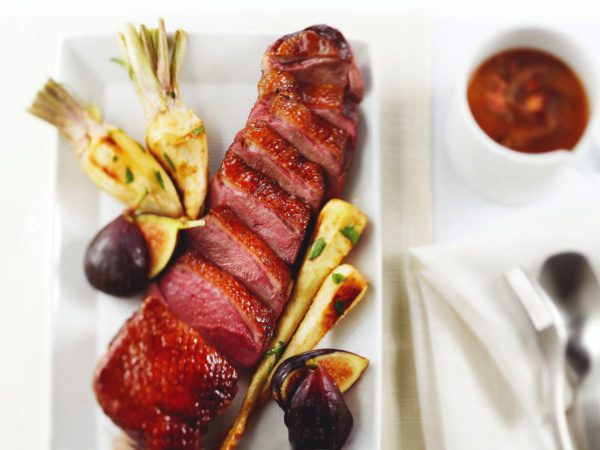 Ingredients
Maple Lacquer
1 cup

maple taffy

2 tablespoons

rice vinegar (or cider vinegar)

2 tablespoons

Val Ambré maple aperitif (Pineau des Charentes style maple fortified wine)

1 tablespoon

cracked black pepper

1 tablespoon

fresh ginger, grated
Put the lacquer ingredients in a pan, bring to the boil and keep warm.
Duck
1

fattened duck (bone-in duck supremes, sometimes called 'coffre') or 2 large duck magrets

10 oz

mirepoix (equal parts celery, carrot, onion and leek, diced)

2

sprigs of fresh thyme

1

sprig of savory

1

sprig of fresh rosemary

1

head of garlic, cut horizontally

1/2 cup

Val Ambré maple aperitif
Salt and freshly ground pepper, to taste
Red wine sauce with maple and oyster mushrooms
The mirepoix and reserved meat juices

4 teaspoons

red wine vinegar

1 1/4 cup

dry red wine

1/4 cup

maple syrup (preferably Very Dark for its strong taste)

1 1/4 cup

duck stock

2 oz

lardons (pork belly)

1 tablespoon

butter

1

shallot, chopped

1

garlic clove, minced

8

large oyster mushrooms, sliced
Salt and freshly ground pepper, to taste
Method
In a heavy-bottomed frying pan, gently colour the duck supremes without adding any fat. Set aside.
In the same frying pan, sweat the mirepoix for several minutes.
Add the fresh herbs, garlic, reserved supremes (place them near the top) and flambé with the Val Ambré. Season.
Brush the duck generously with the reserved lacquer and bake at 400 ˚F (220 ˚C). Continue to brush every 10 minutes for about 25 minutes (the skin should be golden brown and the meat not overcooked).
Leave to rest for 5 minutes before slicing. This step lets the meat relax.
While the meat is resting, return the mirepoix and the meat juices to the heat, add the vinegar, red wine and maple syrup. Reduce by half. Add the duck stock. Simmer for 10 minutes and then strain the sauce.
In a small pan, brown the lardons in the butter until crispy. Add the shallot, garlic and oyster mushrooms. Season, then add the strained sauce. Gently reduce until the desired consistency.
Carefully remove the duck breasts, slice against the grain and serve with the sauce while still very hot.
Chef's suggestion: You can also serve this maple-lacquered duck with roasted parsnips and wild mushrooms sautéed in butter.
The Quebec Maple Syrup Producers are not in any way responsible for the identification or presence of allergens in recipes or for the classification of any recipe as vegetarian or vegan.
Hundreds of Delicious Recipes
Maple is a special addition to any recipe, from appetizer to dessert. Find one that's perfect for you or your occasion!