Maple-Miso Baked Walleye
---
Fish and Seafood / Recipes with Maple Syrup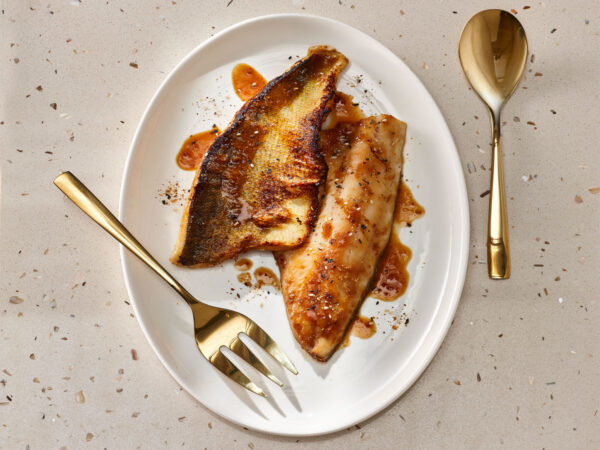 Ingredients
1 1/2 lb

walleye fillets

1/2 cup

maple syrup (preferably golden syrup, for its delicate flavour or amber syrup, for its rich flavour)

1/2 cup

red beer or amber ale

1/2 cup

white miso*

2 tsp

shichimi togarashi** or Korean chile flakes, to garnish (optional)
Method
Rinse walleye fillets well in cold water. Dry with absorbent paper, and place in a container. Reserve.
Pour maple syrup and beer into a medium saucepan. Bring to a boil and reduce by two-thirds. (Watch carefully, as the mixture could boil over.)
Place the miso in a bowl and pour the maple reduction over top. Blend well with a whisk. Allow to cool 5 minutes.
Reserve a quarter of the marinade in a container. Pour the rest of the marinade on the fish and rub it all over to coat well. Cover and allow to rest in the fridge for 12 – 24 hours.
Preheat oven to 240° C (475° F). Line a baking sheet with oiled parchment paper and put the marinade-coated fillets on it.
When the oven's good and hot, put the fish in and increase heat to maximum. Leave in for 8 or 9 minutes to roast the fish and caramelize the marinade.
Remove sheet from oven and, to preserve the nicely-caramelized skin, use a good flexible spatula to move the fillets to a plate.
Pour reserved marinade onto fillets and garnish with shichimi togarashi or Korean chile.
*Sold in Asian grocery stores, health food stores, and some supermarkets.
**A Japanese seven-spice seasoning.
NOTE
If possible, use scaly fillets so they'll get extra-crispy and delicious!
Refrigeration Time: 12 – 24 hours
The Quebec Maple Syrup Producers are not in any way responsible for the identification or presence of allergens in recipes or for the classification of any recipe as vegetarian or vegan.
Hundreds of Delicious Recipes
Maple is a special addition to any recipe, from appetizer to dessert. Find one that's perfect for you or your occasion!