Ethné de Vienne
The Spice Huntress
Maple Ambassador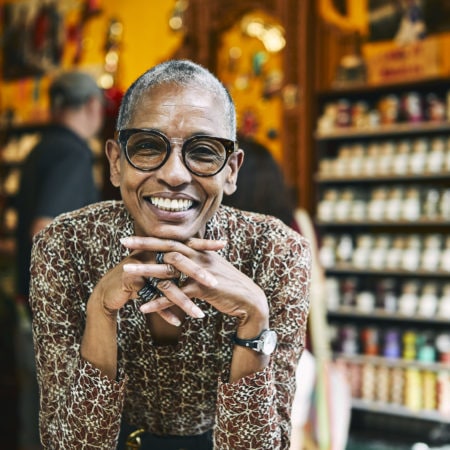 Portrait
Ethné de Vienne is a spice hunter for the shop Épices de cru, located in Montreal.
---
---
When you're born in Trinidad, you usually learn about spice quite early in life. The island's cuisine is a happy blend of typical Creole flavours and spice mixtures skilfully imagined by the Indian workers who settled there in the 19th Century. No wonder then that Ethné developed her lasting love for cumin and quatre-épices (four-spice seasoning) at a very young age!
In the 1960s, their mother Lorna made the fateful decision to move with her daughters to Montréal. The city was booming. Opportunity was in the air. And Lorna started to take cooking more seriously, feeding her children while perfecting her knowledge of Indian cuisine, in large part through a book borrowed from a friend. Spices took on a role of importance in everyday life.
Ethné eventually went to work in Amsterdam. Her two-year apprenticeship in the Netherlands led to the discovery of new culinary vistas, notably the food of Indonesia and the until-then unknown mysteries of galangal and kaffir lime.
Back in Montréal, Ethné met the chef Philippe de Vienne who, sharing her passion for flavour and fine cuisine, would become her life partner. In 1989, they opened their catering company, serving traditional dishes from around the world, and quickly earning a reputation for delicious, authentic food.
Over time, they found their greatest challenge in producing genuine dishes was finding quality spices. Thus began their travels around the globe, returning home with suitcases filled with flavours from its farthest reaches.
Years of hard work and perseverance led Ethné and Philippe to build a network of friends and suppliers who, like them, have a fine appreciation for the best spices. This was no easy task – there were cultural differences to overcome and the need to convince people that they, unlike most importers, put the greatest emphasis on quality, not price. Spice hunting became a full-time job.
When Montréal's Jean Talon Market undertook its major redevelopment, the couple was asked to open a spice shop there. Skeptical at first, the de Viennes warmed to the idea and the boutique opened its doors in 2004. It was soon a hit with foodies who finally had a go-to place for whole spices and authentic blends.
Authors of five spice-themed cookbooks published by Trécarré, Ethné and Philippe are also familiar to audiences of TV and radio programs such as Ricardo, À la di Stasio and Curieux Bégin. In 2011, ARTV broadcast the eight-episode series Chasseurs d'épices (Spice Hunters), chronicling their travels to Indonesia, Mexico, and the Caribbean.
Their passion is contagious. Thanks to the tireless work of Ethné and Philippe, spice has its place in the Québec culinary canon. From the well-known to the exceedingly rare, these scents and flavours have enriched the lives of countless food-lovers!
---
Maple and Ethné
"To me, maple means: Springtime, hope, pride, and tenacity. I start by caramelizing maple sugar in a bit of oil. When it bubbles and turns brown, I add pieces of chicken that I've marinated with spices, vinegar, garlic, and onions for at least 12 hours. I'll simmer that slowly until it's golden and cooked through. It's a delicious variation on a traditional English dish from the Caribbean."
First Memory of Maple:
"It was my first sugar shack. My mother and sister and I went to one in the Eastern Townships in 1969, just after we came to Québec — it was a culture shock, but a tasty one!"
Maple… a Slice of Life! 
"Taffy in Philippe's Hair"
When the kids were young and we'd make our annual sugar shack trip, they sometimes wouldn't want to walk through the snow and mud. Philippe would carry them on his shoulders. They'd get their maple taffy and, inevitably, it'd end up in their dad's hair. With the hair I have, I couldn't really understand the consequences for him or even sympathize with the poor guy… Still, I always thought his protests were pretty funny!
Former Ambassadors
---
They gave it all to maple: their great talents and their love. They inspired us! They're people of dedication and passion. Wherever they went, they took maple with them. They brought their own special magic to maple and made it sparkle. To our former ambassadors, we say with all our hearts: THANK YOU!
Hundreds of Delicious Recipes
Maple is a special addition to any recipe, from appetizer to dessert. Find one that's perfect for you or your occasion!