Maple Sugar Salmon Gravlax
---
Fish and Seafood / Recipes with Maple Syrup / Starters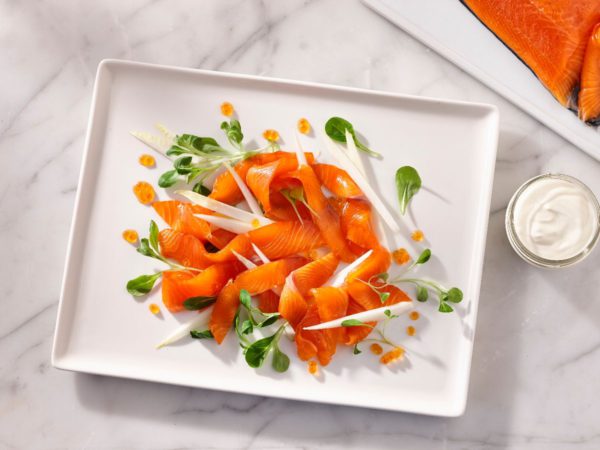 Ingredients
Juice of 1 lime
Zest of 2 limes

1/4 cup

ginger, grated

1/4 cup

lemongrass, chopped

3 cups

maple sugar

1/2 teaspoon

fresh cilantro

1/2 teaspoon

cardamom seeds

2 cups

coarse sea salt

2

fresh salmon fillets, each 500 g – 800 g (1 lb – 1 3/4 lb)

18 oz

sour cream
Juice of 1 lemon
Salt and pepper, hand-ground

1 oz

salmon caviar

5 cups

lamb's lettuce or endives
Method
Make a marinade with the zest of 1 lime and the lime juice, the ginger, lemongrass, maple sugar, cilantro, cardamom seeds, and salt.
Rub the salmon fillets with the marinade, transfer to a rack and press* in the fridge for 12 hours.
Remove the weight. Rinse and rub the salmon immediately under water to remove the salt and spices. Refrigerate the fillets for another 12 hours. The gravlax is then ready.
Blend the sour cream with the zest of 1 lime and the juice of the lemon. Salt and pepper.
Serving suggestion: Line a serving plate with lamb's lettuce or endives. Arrange the gravlax for presentation, garnished with salmon caviar. Serve with the lemon cream.
* A press can be improvised by placing a baking sheet on top of the salmon and weighing it down with heavy food cans.
Refrigeration time : 24 hours
The Quebec Maple Syrup Producers are not in any way responsible for the identification or presence of allergens in recipes or for the classification of any recipe as vegetarian or vegan.
Hundreds of Delicious Recipes
Maple is a special addition to any recipe, from appetizer to dessert. Find one that's perfect for you or your occasion!