Maple and Northern Shrimp Aspic
---
Fish and Seafood / Recipes with Maple Syrup / Starters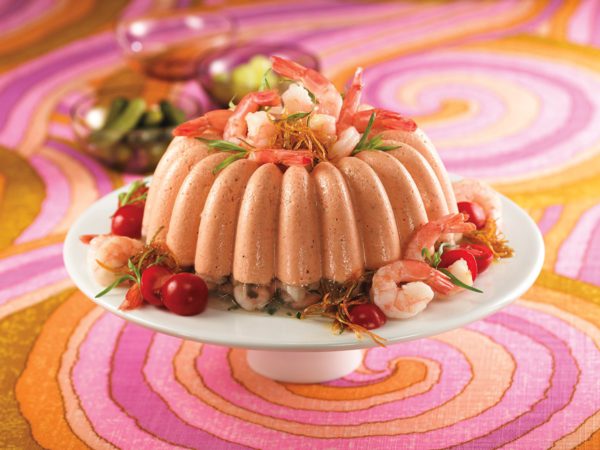 Ingredients
Confit citrus peels
1/2 cup

citrus zest (lemon, lime, orange, grapefruit), taken off in strips

1/4 cup

maple syrup (preferably golden for its delicate flavour)
Aspic
2

packets unflavoured gelatin

1/2 cup

water

1 cup

homemade (or store-bought) tomato sauce

9 oz

package cream cheese

2

celery stalks, diced

1

small onion, chopped

1 cup

cooked, deveined Northern shrimps
Base
2

packets unflavoured gelatin

1/2 cup

water

1/2 cup

citrus juice (from the peeled fruit)

1 cup

vegetable broth

1/2 cup

dry white wine

3 tablespoons

fresh tarragon, chopped

1 1/2 cups

cooked, deveined Northern shrimps

12

large cooked shrimp for garnish
Fines herbes to taste
Method
In a small saucepan, combine the citrus peels and the maple syrup. Simmer over low heat, stirring frequently, for 5 minutes. Remove from the heat and let cool. Set aside.
In a large saucepan, dissolve the gelatin in the water over low heat and let soften for 2 minutes.
Add the tomato sauce and cream cheese. Stir well until the cheese has melted.
Add the celery, onion, mayonnaise and shrimp. Mix well. Remove from heat and purée until smooth.
Fold in half of the confit citrus peels by hand.
Pour the aspic into an oiled mould and refrigerate 2 hours.
In a saucepan, dissolve the gelatin in the water over low heat for 2 minutes. Add the citrus juice, vegetable broth, white wine and tarragon; heat for 3 minutes or until the gelatin is entirely dissolved.
Add the shrimp, mix well, pour over the aspic in the mould and refrigerate for 4 hours.
Dip the mould into a bowl of hot water for several seconds, just until the edge of the aspic separates from the pan. Be careful not to let it sit in the hot water for too long.
Unmould onto a large serving dish and garnish with 12 large shrimp, fines herbes and the rest of the confit citrus.
The Quebec Maple Syrup Producers are not in any way responsible for the identification or presence of allergens in recipes or for the classification of any recipe as vegetarian or vegan.
Hundreds of Delicious Recipes
Maple is a special addition to any recipe, from appetizer to dessert. Find one that's perfect for you or your occasion!