Maple Syrup-Braised Pork Belly with Maple Glazed Carrots and Maple Vinegar Coleslaw
---
Pork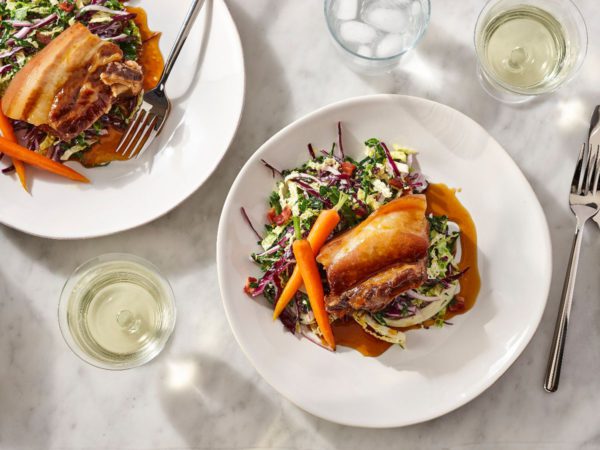 Ingredients
Pork Belly
1 3/4 lb

pork belly, trimmed and slightly defatted

1/4 cup

coarse salt

2

sprigs of fresh thyme

1 tablespoon

vegetable oil

1

onion, diced

1

stalk of celery, diced

1 cup

maple syrup

1 cup

white wine

2 tablespoons

cider vinegar

3 cups

beef stock (brown stock)

2

bay leaves

1

head of garlic, cut in half crosswise
Glazed Carrots
12 to 16

Nantes or small carrots, peeled

2 cups

water (approximate)

2 tablespoons

butter

2 tablespoons

maple syrup

2

cloves of garlic

3

bay leaves
Salt and pepper, hand-ground, to taste
Coleslaw
1/2 cup

mayonnaise (preferably homemade)

1/2 tablespoon

garlic, chopped

1 tablespoon

parsley, chopped

1 tablespoon

maple vinegar

2 cups

kale, finely chopped

2 cups

red cabbage, thinly sliced

2 cups

green cabbage, thinly sliced

6

strips of bacon, diced, cooked, and drained

1/4 cup

red onion, finely chopped
Salt and pepper, hand-ground, to taste
Method
Pork Belly
Rub pork belly with coarse salt and place in a dish.
Add the thyme, cover with plastic wrap, and refrigerate for 12 hours.
Preheat oven to 150°F (300°F).
Rinse the pork belly to remove salt and pat with a clean cloth to dry well. Set aside.
In a large saucepan, heat the oil over medium heat. Sauté onion and celery for 3 minutes.
Add the maple syrup and reduce by half.
Add white wine and cider vinegar, and again reduce by half.
Add brown stock and bay leaves; bring to boil.
Add the pork belly and garlic; cover and roast 4 hours or until the meat comes apart with a fork.
Remove the meat and set aside on a plate.
Filter the cooking juices through a strainer, return to the pan and reduce over medium heat until syrupy.
Serve with the sauce, glazed carrots, and coleslaw.
Glazed Carrots
Place carrots in a pan and cover with water. (Not too much water — the carrots must come out slightly al dente. Add more water as needed to finish cooking.)
Add the butter, maple syrup, garlic, and bay leaves.
Begin cooking over high heat. Once the liquid is completely evaporated, stir the carrots well so they become caramelized and shiny.
Salt and pepper.
Coleslaw
In a bowl, combine the mayonnaise, garlic, parsley, and cider vinegar.
Add the cabbage, bacon, and onion; salt and pepper.
Mix well and leave to marinate 15 minutes in the fridge.
Refrigeration time : 12 hours 15 minutes
The Quebec Maple Syrup Producers are not in any way responsible for the identification or presence of allergens in recipes or for the classification of any recipe as vegetarian or vegan.
Hundreds of Delicious Recipes
Maple is a special addition to any recipe, from appetizer to dessert. Find one that's perfect for you or your occasion!