Pork Chops with Maple Carrot Confit and Shiitake Mushrooms
---
Pork / Recipes with Maple Sugar / Recipes with Maple Syrup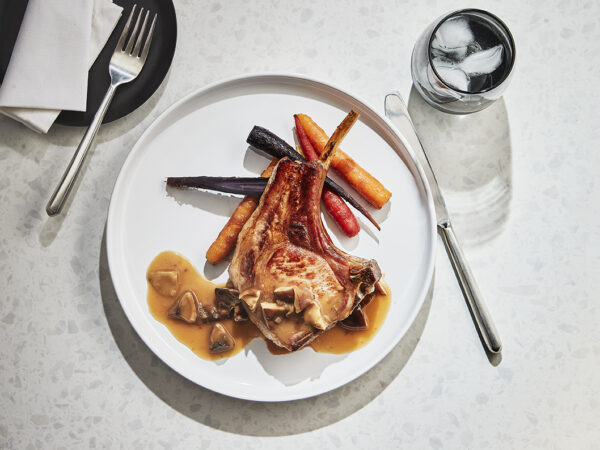 Ingredients
MAPLE CARROT CONFIT
16

thin baby carrots

1 tbsp

vegetable oil
Salt and pepper, to taste

1 1/4 cup

poultry broth

1 3/4 tbsp

unsalted butter

2 tbsp

maple syrup (preferably golden syrup for its delicate flavour)

1 tbsp

sherry or red wine vinegar

1 tbsp

fine maple sugar
PORK CHOPS
4

Québec pork chops, 200-225 g (about 1/2 lb) each

3 tbsp

olive oil
Salt and ground pepper, to taste

1 tbsp

vegetable oil

1

sprig of thyme

1

clove of garlic, peeled
SHIITAKE MUSHROOMS AND JUS
2

containers (226 g [1/2 lb]) shiitake mushrooms

2

French shallots, peeled and minced

1 tbsp

vegetable oil

1 1/2 cup

veal jus

1 tbsp

Dijon mustard

1 3/4 tbsp

unsalted butter
Salt and pepper, to taste
Method
MAPLE CARROT CONFIT
In a saucepan over medium heat, sauté the carrots on all sides in the vegetable oil for 2 minutes. Season with salt and pepper. Add the poultry broth and 25 g (1 3/4 tbsp) butter and cook 15 minutes.
Add the maple syrup and sherry vinegar, coating the carrots well but gently, as they are delicate. Transfer to a plate and sprinkle with the maple sugar. Discard excess liquid if necessary.
PORK CHOPS
Preheat oven to 190° C (375° F).
Coat pork chops on both sides with 15 ml (1 tbsp) of the olive oil and the salt and pepper.
Pour the vegetable oil into a skillet and heat to medium-high. Brown chops on both sides.
Put chops in an ovenproof dish, add the sprig of thyme, the clove of garlic, and the remaining 30 ml (2 tbsp) of olive oil. Bake 8 – 10 minutes, depending on thickness of chops.
Remove from oven and allow to rest 3 minutes on a plate.
SHIITAKE MUSHROOMS AND JUS
Trim stems off shiitakes and cut the mushrooms into quarters.
Heat vegetable oil to medium-high in a skillet. Sauté shiitakes for 5 minutes.
Reduce heat to medium-low, add shallots, and stir well for 1 minute.
Add veal jus and reduce by half.
Add the Dijon and quickly stir in. Turn off heat and add the unsalted butter. Season with salt and pepper to taste.
ASSEMBLY
Place a pork chop on each plate, along with a portion of the maple carrot confit.
Drizzle mustard jus on chops and arrange shiitakes over each.
The Quebec Maple Syrup Producers are not in any way responsible for the identification or presence of allergens in recipes or for the classification of any recipe as vegetarian or vegan.
Hundreds of Delicious Recipes
Maple is a special addition to any recipe, from appetizer to dessert. Find one that's perfect for you or your occasion!