Maple Syrup Gingerbread Cookies
---
Cookies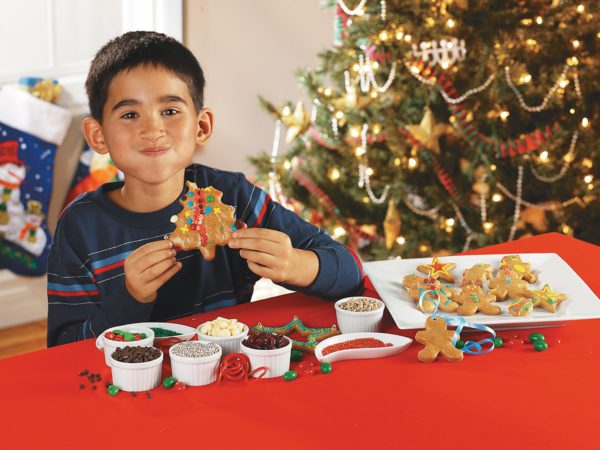 Ingredients
1 cup

maple syrup

2 tablespoons

butter

1

pinch of ground cloves

1

pinch of ground cinnamon

1/4 teaspoon

ground cardamom (or ginger)

2 1/3 cups

all-purpose flour

1

egg yolk

1 teaspoon

baking powder
Boiling water
Method
In a casserole, heat the maple syrup and butter over low heat, then add spices. Mix, remove from heat and let cool. Set aside.
Sift 375 ml (1 1/2 cups) of flour into a bowl. Make a well in the centre and add the maple syrup mixture, egg yolk, and baking powder (dissolved in a bit of boiling water). Mix well. Knead adding the remaining flour to obtain a firm dough that does not stick to the sides of the bowl.
Preheat the oven to 180 ˚C (350 ˚F).
Using a rolling-pin, on a floured surface, roll the dough out to a thickness of 0.5 cm (1/4 in). Use cookie cutters to cut out a variety of shapes.
Place the cookies on a greased and floured cookie sheet (or spread with waxed paper).
Bake on the top oven rack for about 10 minutes or until the cookies are slightly golden in colour.
Decorate with maple products, icings and mini candy. Use the maple butter to help the candy stick to the cookies.
Garnish
Your choice of maple products (butter, sugar, chips, taffy, mini candy, etc.). A variety of store-bought icings and mini candy.
The Quebec Maple Syrup Producers are not in any way responsible for the identification or presence of allergens in recipes or for the classification of any recipe as vegetarian or vegan.
Hundreds of Delicious Recipes
Maple is a special addition to any recipe, from appetizer to dessert. Find one that's perfect for you or your occasion!