Moist Fruit, Nut and Maple Cake
---
Cakes / Fancy Pastries / Recipes with Maple Sugar / Recipes with Maple Syrup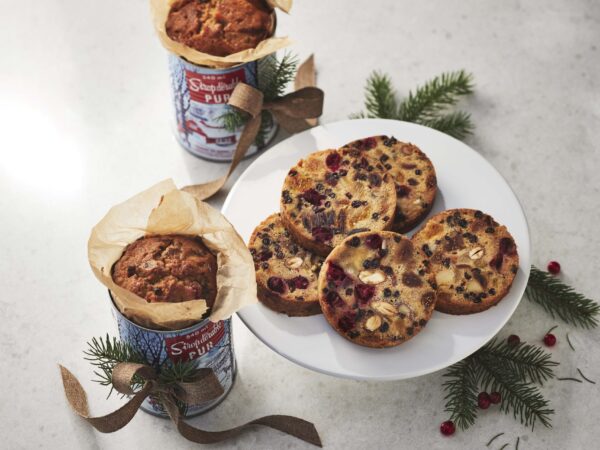 Ingredients
1 cup

dried dates, quartered

1/2 cup

dried apricots, diced

1/2 cup

dried figs, diced

1 cup

dried currants

1 cup

rum (or brandy)

1 cup

almonds

1 cup

cranberries (fresh or frozen)

1 cup

softened, unsalted butter

1 cup

maple sugar

4

eggs

1 teaspoon

vanilla extract

1/ 1/2 cups

all-purpose flour

2 teaspoons

baking powder

1/4 teaspoon

salt

1/2 cup

maple syrup (preferably amber syrup for its rich flavour)
Maple candy for garnish
Method
In a bowl, combine dried fruit and 125 ml (1/2 cup) alcohol. Cover and macerate for 12 hours.
Add almonds and cranberries. Set aside.
Preheat oven to 150 °C (300 °F).
Cover 4 empty maple syrup cans or a spring-form pan with 20 cm (8 in) of wax paper; allow paper to extend an extra 2.5 cm (1 in).
In a large bowl, beat together butter and maple sugar. While beating, add eggs, one at a time, and vanilla.
In another large bowl, sift flour, baking powder and salt, and then add to egg mixture. Finally add the macerated fruit.
Stir the batter, then pour into the cans or the pan. Bake for 2 hours or until a toothpick comes out clean. Set aside.
In a casserole, heat maple syrup and 125 ml (1/2 cup) alcohol. Remove from heat, and then pour over cake.
Sprinkle with maple candy. Let sit in the fridge for 14 days.
The Quebec Maple Syrup Producers are not in any way responsible for the identification or presence of allergens in recipes or for the classification of any recipe as vegetarian or vegan.
Hundreds of Delicious Recipes
Maple is a special addition to any recipe, from appetizer to dessert. Find one that's perfect for you or your occasion!