Pork Tenderloin Glazed with Maple and Pink Grapefruit
---
Pork / Recipes with Maple Syrup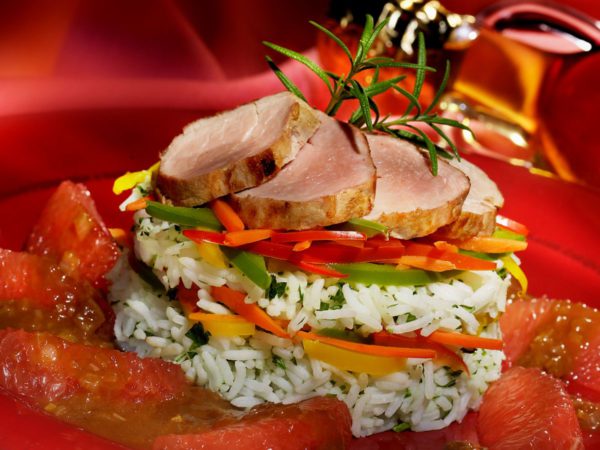 Ingredients
2 tablespoons

oil

1 tablespoon

butter

1 1/3 lb

pork tenderloin

2

french shallots finely chopped

1/4 cup

brown rum

3/4 cup

pink grapefruit juice

1/3 cup

maple syrup (preferably dark syrup for its robust flavour)

1 tablespoon

flour

2 tablespoons

butter at room temperature
Salt and ground pepper to taste

4

pink grapefruits quartered and skin removed

4

Herb flakes to taste (thyme, basil, rosemary)
Method
Heat oil in a pan and melt the butter at high heat. Brown the tenderloin on each side, season and keep warm.
In the same pan, sauté shallots.
Deglaze with rum and reduce to half. Incorporate the grapefruit juice and continue to reduce to one quarter.
Add the maple syrup and bring to a boil. During this time, cream the butter and flour together. Add to the boiling liquid using a whisk. Simmer until it thickens.
Place the tenderloin in the gravy keeping the cooking juices if desired and finish cooking. Cook until the gravy coats the tenderloin with a surplus of liquid. For tender and tasty tenderloin serve the pork medium done.
Slice the tenderloin in medallions and decorate with the quartered pink grapefruit and a touch of herbs as desired.
Serve immediately with accompanying season vegetables.
*You can replace the rum with Sortilège (a Québec whisky-maple syrup liqueur), or whisky or brandy.
The Quebec Maple Syrup Producers are not in any way responsible for the identification or presence of allergens in recipes or for the classification of any recipe as vegetarian or vegan.
Hundreds of Delicious Recipes
Maple is a special addition to any recipe, from appetizer to dessert. Find one that's perfect for you or your occasion!