White Beet Maple Velouté with Caviar Cream
---
Fish and Seafood / Recipes with Maple Syrup / Soups / Thick Soups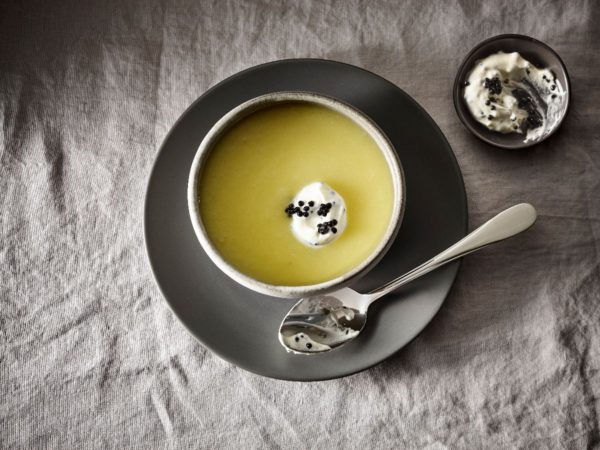 Ingredients
1

onion, peeled and finely diced (mirepoix)

2 tablespoons

vegetable oil

1/4 cup

maple syrup (preferably golden syrup for its delicate flavour)

3/4 cup

white wine

1/2 lb

Yukon Gold potatoes, peeled and cut into large cubes

2.2 lbs

white beets, peeled and cut into pieces
Salt and ground pepper

7 oz

butter

1/2 cup

35% cream

3/4 oz

caviar

1

Juice of one lemon
Method
In a saucepan, sauté onion in the oil. Add 15 ml (1 tbsp) maple syrup and lightly brown the onions. Add the white wine, potatoes and beets, then enough water to cover (but no more). Simmer 30 minutes.
Purée in a blender until smooth, then season with salt and pepper. Add the butter and the remaining maple syrup, and blend once again for 2 minutes.
In a bowl, whip the cream until soft peaks form. Gently incorporate the caviar and lemon juice. Mix.
Ladle velouté into individual soup bowls and garnish with dollops of caviar cream. Serve immediately.
The Quebec Maple Syrup Producers are not in any way responsible for the identification or presence of allergens in recipes or for the classification of any recipe as vegetarian or vegan.
Hundreds of Delicious Recipes
Maple is a special addition to any recipe, from appetizer to dessert. Find one that's perfect for you or your occasion!