Maple-Caramelized Pork Chops
---
Pork / Recipes with Maple Spirits / Recipes with Maple Syrup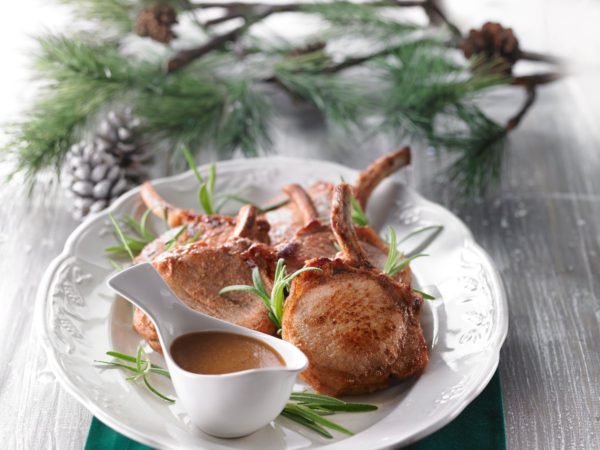 Ingredients
Charles-Aimé Robert sauce
2 tablespoons

Dijon mustard

1/2 cup

chilli sauce

1/2 cup

maple syrup (preferably very dark syrup for its strong flavour)

1/2 cup

Charles-Aimé Robert (maple-based alcohol) or similar spirit
Juice of one lemon

1/2 teaspoon

ground ginger

1/2 teaspoon

ground cumin
Salt and freshly ground pepper

2 tablespoons

olive oil

8

rack of pork ribs, 8 ribs about 2.5 cm (1 in) wide, on the bone, fat removed

1 cup

veal demi-glace
A few herb sprigs for garnish
Method
Mix all sauce ingredients together in a bowl. Brush meat with half the sauce. Leave to marinate for 4 hours in refrigerator.
Preheat oven to 180 °C (350 °F).
For the ribs, heat 15 ml (1 tablespoon) olive oil in a frying pan and sauté 4 ribs at a time for 1 minute on each side. Cook the other ribs with remaining olive oil. Place ribs in a roasting pan, pour rest of sauce all over and bake 30 minutes.
After cooking, remove ribs from roasting pan, place on a serving platter, cover with foil and reserve. Deglaze roasting pan with demi-glace and reduce sauce on hob for 5 minutes.
Pour sauce over ribs and garnish with herb sprigs before serving.
The Quebec Maple Syrup Producers are not in any way responsible for the identification or presence of allergens in recipes or for the classification of any recipe as vegetarian or vegan.
Hundreds of Delicious Recipes
Maple is a special addition to any recipe, from appetizer to dessert. Find one that's perfect for you or your occasion!