Cheese and Maple-Stuffed Potatoes
---
Recipes with Maple Sugar / Recipes with Maple Syrup / Vegetables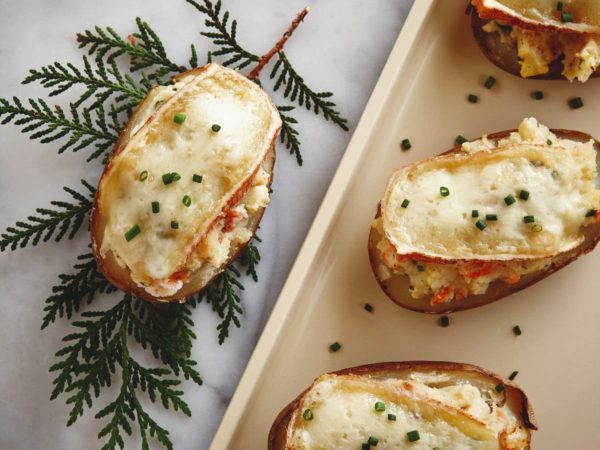 Ingredients
6

large potatoes, washed and pricked with a fork

1 lb

firm cheese

1/2 cup

sour cream

1/4 cup

maple sugar

1/4 cup

butter

1/4 cup

fresh chives, chopped

6

slices of smoked salmon, diced

1/4 cup

maple syrup (preferably golden syrup for its delicate flavour)
Salt and freshly ground black pepper
Method
Preheat oven to 180 °C (350 °F).
Wrap each potato in aluminum foil. Bake in oven for about 1 hour 30 minutes or until tender. Let cool.
On a work surface, cut potatoes in half lengthwise. Remove flesh leaving a 1-cm (3/8-in) perimeter. Set flesh and hollowed potatoes aside.
Cut cheese into 12 slices of about 20 g (3/4 oz) each and reserve.
Grate remaining cheese to get 375 ml (1 1/2 cups).
In a bowl, mash potato flesh with grated cheese, sour cream, maple sugar, butter, chives and smoked salmon. Season with salt and pepper.
Stuff potato halves with this mixture and place slice of cheese on top of each potato half.
Arrange stuffed potatoes on baking sheet lined with parchment paper and drizzle with maple syrup.
Bake for about 20 minutes.
Serve one half-potato per person with meat or grilled poultry.
The Quebec Maple Syrup Producers are not in any way responsible for the identification or presence of allergens in recipes or for the classification of any recipe as vegetarian or vegan.
Hundreds of Delicious Recipes
Maple is a special addition to any recipe, from appetizer to dessert. Find one that's perfect for you or your occasion!