Maple-Thyme Pickled Roasted Peppers
---
Recipes with Maple Syrup / Recipes with Maple Vinegar / Vegetables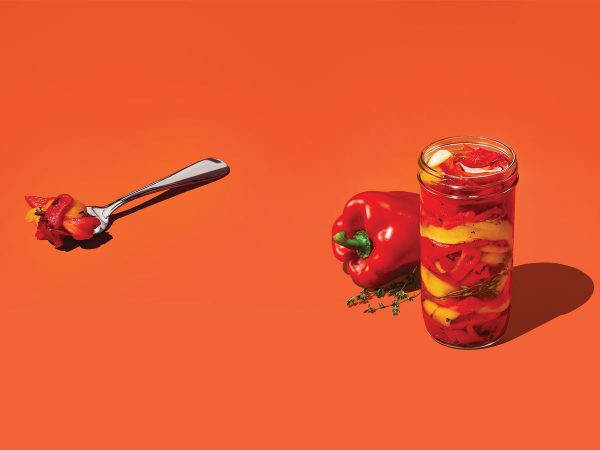 Ingredients
12 à 15

bell peppers (depending on size), red, orange, or yellow

1/4 tasse

maple vinegar

1 tasse

white vinegar

1 tasse

water

1/4 tasse

white wine

1/4 tasse

maple syrup (preferably golden syrup for its delicate flavour)

4

branches fresh thyme

4

cloves garlic
Method
Preheat the oven broiler.
Line a baking sheet with aluminum foil.
Cut the peppers in half and deseed them. Place on the baking sheet, cut sides down.
Broil until the skins blacken, 15 – 20 minutes. Remove from oven, transfer them to a large dish and cover with a lid or aluminum foil. Let stand for 10 minutes, enough time for the steam to lift the skins.
Meanwhile, execute the steps in the "Method for Preparing Jars and Lids," found here.
Peel the peppers, cut them into strips, and distribute among the hot, sterilized jars, leaving space of at least 2 cm (7/8 in) from the tops. Set aside.
Place remaining ingredients in a medium saucepan and boil 1 minute.
Push a sprig of thyme and a clove of garlic into each jar and pour the pickling liquid to 1 cm (3/8 in) from the top. Use a non-metallic utensil to release air bubbles.
Follow Steps 1 – 6 of the "Canning Method," found here.
The Quebec Maple Syrup Producers are not in any way responsible for the identification or presence of allergens in recipes or for the classification of any recipe as vegetarian or vegan.
Hundreds of Delicious Recipes
Maple is a special addition to any recipe, from appetizer to dessert. Find one that's perfect for you or your occasion!