Crunchy Maple-Pecan Chocolates
---
Treats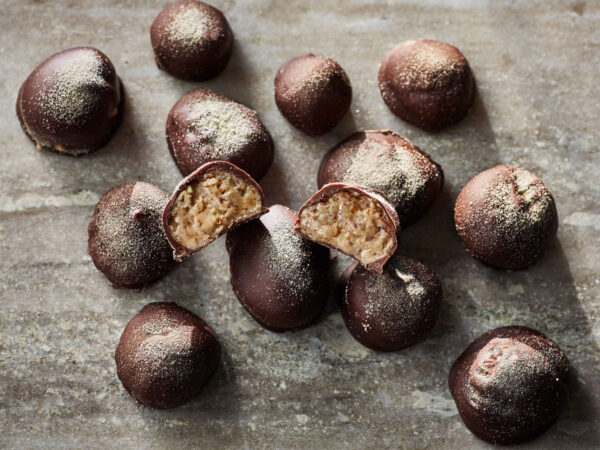 Ingredients
1/2 cup

maple butter

1/2 cup

pecans, finely chopped

2 tbsp

maple flakes

1/3 lb

dark or semi-sweet chocolate
Maple sugar, maple flakes, or maple nuggets (to garnish)
Method
In a bowl, blend the pecans and maple flakes into the maple butter.
Line a baking sheet with parchment paper.
Using a teaspoon, put balls of the maple butter mixture onto the sheet in the amount indicated for your desired size**. Place the sheet in the freezer for a minimum of one hour.
Once they are fully chilled, use your hands to shape the balls and put them back in the freezer for at least 30 minutes.
During this time, melt the chocolate in a bain-marie or double-boiler and let it temper: it must be at room temperature for dipping.
Line another baking sheet with parchment paper.
Line another baking sheet with parchment paper.
Using a fork, quickly dip the maple-butter balls one by one into the melted chocolate, drain, and place on the baking sheet. If desired, sprinkle them with maple sugar, flakes, or nuggets, and put the sheet in the fridge.
Once the coating has set, transfer your chocolates to an airtight container, and return to the fridge.
For best enjoyment, take them out of the fridge 15 – 20 minutes before serving so the maple butter filling is nice and creamy.
RESTING TIME: 1:45
* Yield varies: about 90 mini-chocolates, 40 small, or 12 medium-sized.
** Individual Size:
Mini-Chocolates: about 2 g (a bit less than 1/2 tsp) of maple mixture
Small Chocolates: about 5 g (a bit more than 1/2 tsp) of maple mixture
Medium Chocolates: about 15 g (a bit more than 2 tsp) of maple mixture
NOTE: These chocolates will keep in an airtight container in the fridge for 7 – 10 days. You can also freeze them.
The Quebec Maple Syrup Producers are not in any way responsible for the identification or presence of allergens in recipes or for the classification of any recipe as vegetarian or vegan.
Add something special to your summer menu this year.
Maple is a special addition to any recipe, from appetizer to dessert. Find one that's perfect for you or your occasion!