Home-Made Maple Ketchup
---
Recipes with Maple Sugar / Recipes with Maple Vinegar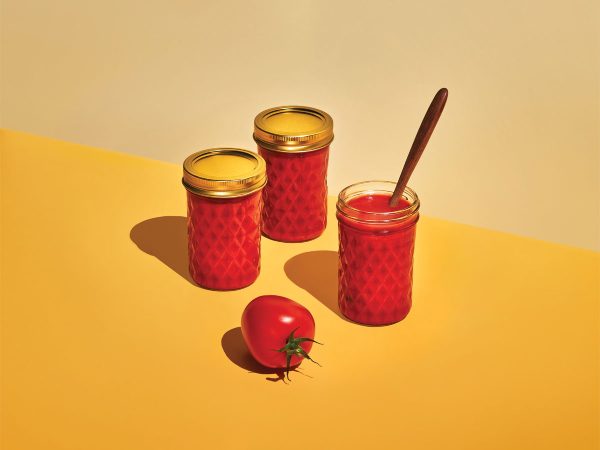 Ingredients
15

Italian tomatoes, preferably San Marzano or Romanello

1/4 cup

maple vinegar

1/2 cup

white wine vinegar

1/2 cup

maple sugar

1 tsp

onion powder

1 tsp

garlic powder

1/2 tsp

cinnamon

1 tsp

Dijon mustard

1/2 tsp

salt
Method
Perform the steps in the "Method for Preparing Jars and Lids," found here.
Boil water in a large pot. Make a small cross-shaped incision in the bottoms of the tomatoes. Drop half of the tomatoes into the boiling water for 30 seconds. Remove them with a slotted spoon, then plunge them into a bowl of ice water. Repeat with the other half of the tomatoes. Peel and seed them.
Purée the tomatoes in a food processor.
Transfer the purée to a saucepan. Bring to the boil, then simmer for 1 hour, uncovered, to reduce (to about 1 litre [4 cups] of sauce at this point).
Add the remaining ingredients to the tomato sauce and simmer 10 minutes.
Fill the hot, sterilized jars to 2 cm (7/8 in) from the top. Use a non-metallic utensil to release air bubbles.
Follow Steps 1 – 6 of the "Canning Method," found here.
The Quebec Maple Syrup Producers are not in any way responsible for the identification or presence of allergens in recipes or for the classification of any recipe as vegetarian or vegan.
Hundreds of Delicious Recipes
Maple is a special addition to any recipe, from appetizer to dessert. Find one that's perfect for you or your occasion!