Phyllo Stuffed with Lamb and Maple Oyster Mushrooms
---
Lamb / Recipes with Maple Sugar / Recipes with Maple Syrup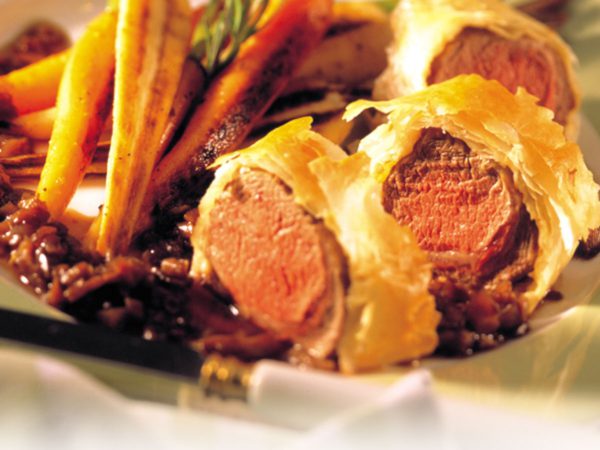 Ingredients
2

boneless lamb loin

1 tablespoon

butter

2 tablespoons

melted butter

4

sheets phyllo dough

1/4 cup

shallots or red onion, minced

7 oz

oyster mushrooms or others phyllo dough

1/3 cup

maple syrup (preferably amber syrup for its rich flavour)

1 tablespoon

balsamic vinegar

1/3 cup

Maple sugar

3 tablespoons

white or white wine vinegar

1 cup

beef stock
Method
Preheat oven to 180° C (350° F).
Trim fat and skin from lamb.
In large skillet, melt the 15 ml (1 tablespoon) butter over high heat and sear the lamb loins, browning on all sides.
Remove meat and wipe fat from skillet with a paper towel. Put lamb in refrigerator for 5 minutes.
Brush the 4 phyllo sheets with the 30 ml (2 tablespoons) melted butter. Layer 2 phyllo sheets and fold them in half. Put one cooled lamb loin on folded phyllo sheets and wrap.
Repeat with remaining loin. Bake 15 to 20 minutes, depending on how you like your lamb.
Meanwhile, in same skillet, sauté the shallots and mushrooms.
Deglaze with the maple syrup and cook 4 over medium heat.
Add balsamic vinegar and simmer 4.
In small saucepan, combine sugar and white vinegar and let it colour over high heat.
Deglaze with beef stock and reduce 10 minutes.
Add mushrooms to sauce.
Heat 4 serving plates. Cover with sauce.
Cut each lamb loin into 4 to 6 pieces and divide among prepared serving plates.
Serve immediately.
The Quebec Maple Syrup Producers are not in any way responsible for the identification or presence of allergens in recipes or for the classification of any recipe as vegetarian or vegan.
Hundreds of Delicious Recipes
Maple is a special addition to any recipe, from appetizer to dessert. Find one that's perfect for you or your occasion!