Maple-Mustard Pork Crown Roast
---
Pork / Recipes with Maple Butter / Recipes with Maple Syrup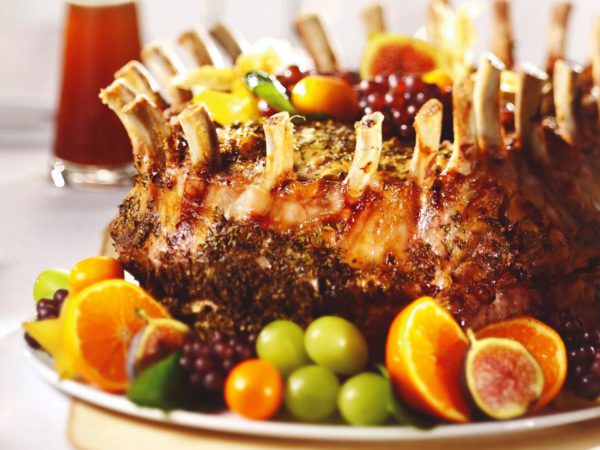 Ingredients
1

pork crown roast 5 kg (10 lb) (ask your butcher to prepare it for you)

2

garlic cloves, peeled

1/2 cup

red wine

1 cup

maple syrup (preferably amber syrup for its rich flavour)

1/4 cup

mixed fresh herbs (rosemary, parsley, thyme)

1

onion, chopped

1/2 cup

Dijon mustard

2 tablespoons

maple butter
Salt and pepper to taste

2/3 cup

chicken stock

1/2 cup

butter
Method
Put the crown in a large dish.
Using a sharp knife, prick the meat in several places and put a garlic clove in each incision.
Mix the wine, maple syrup, 1/3 of the fresh herbs and the onion, then pour over the pork.
Cover with plastic wrap to allow the flavours to mix. Allow the meat to macerate in the fridge for 30 minutes, turning it over regularly to coat evenly in the marinade.
Preheat the oven to 180 ˚C (350 ˚F).
Remove the crown from the marinade and drain all liquid.
Mix mustard with maple butter. Season.
Put a generous coat of mustard and maple butter mixture on the meat (especially on the end sides), sprinkle with fresh herbs, put in a roasting pan and roast for 60 to 75 minutes (or until desired doneness is obtained).
Remove the pork from the roasting pan and keep warm by covering it with aluminum foil (keeping it loose).
Place the roasting pan on the stove, deglaze with the remaining marinade, add chicken stock and reduce over high heat.
Remove from heat, add butter and stir using the back of a spoon to thicken the sauce.
Transfer the crown to a serving platter and pour the sauce around it.
The Quebec Maple Syrup Producers are not in any way responsible for the identification or presence of allergens in recipes or for the classification of any recipe as vegetarian or vegan.
Hundreds of Delicious Recipes
Maple is a special addition to any recipe, from appetizer to dessert. Find one that's perfect for you or your occasion!