Maple Banana Cookies
---
Cookies / Cookies and Galettes / Recipes with Maple Butter / Recipes with Maple Sugar / Recipes with Maple Syrup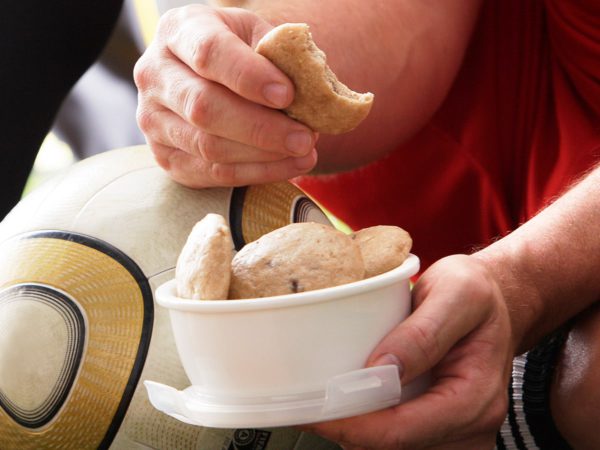 Ingredients
2 cups

all-purpose unbleached flour

1 teaspoon

baking powder

1/2 teaspoon

ground cinnamon
Zest of a lemon

1/4 cup

canola oil

3/4 cup

maple sugar

1/4 cup

maple butter

3 tablespoons

maple syrup (preferably dark syrup for its robust flavour)

2

egg whites

2

ripe bananas, mashed with a fork
Method
Preheat the oven to 180 °C (350 °F).
In a bowl, combine the flour, baking powder, cinnamon and lemon zest.
In another bowl, use an electric mixer to cream the canola oil with the maple sugar, maple butter and maple syrup.
Add the egg whites and beat until smooth and uniform.
Gradually add the dry ingredients and banana, folding in with a wooden spoon.
Spoon out 30 ml (2 tablespoons) portions of dough onto a baking sheet lined with parchment paper, leaving 5 cm (2 in) of space between each.
Bake in the oven, one sheet at a time, for about 10 minutes or until the bottom of the cookies has browned.
These chewy and low-fat cookies certainly stack up against store-bought energy bars. They are easy to eat while training and delicious too, combining subtle maple and banana notes with a refreshing lemon flavour. When training for more than 60 minutes, the recommendation is to eat between 30 g and 60 g of carbohydrates per hour. Depending on your digestive tolerance, two or three cookies per hour should provide you with what you need. Per 2 cookies: 208 calories; 4 g protein; 4 g fat; 38 g carbohydrates; 2 g fibre.
The Quebec Maple Syrup Producers are not in any way responsible for the identification or presence of allergens in recipes or for the classification of any recipe as vegetarian or vegan.
Hundreds of Delicious Recipes
Maple is a special addition to any recipe, from appetizer to dessert. Find one that's perfect for you or your occasion!