Maple Fruit Jellies
---
Recipes with Maple Sugar / Recipes with Maple Syrup / Treats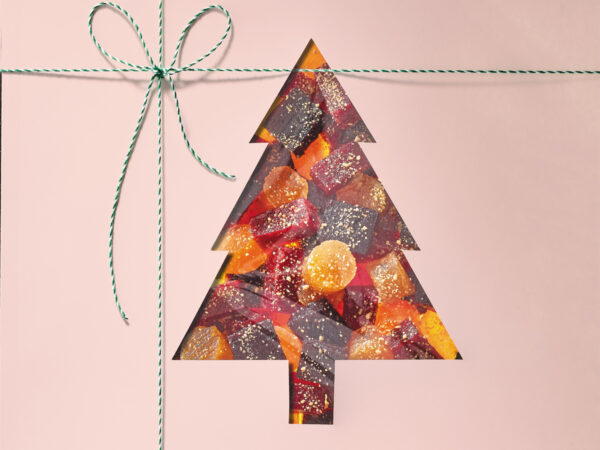 Ingredients
1/2 cup

store-bought, unsweetened apple purée*

1/2 cup

fruit purée** (your choice – apples, pears, blueberries, strawberries, raspberries, cranberries, etc.), ideally from Québec

1 cup

maple syrup (preferably amber syrup for its rich flavour)

2 tbsp

powdered pectin

2 tbsp

lemon juice

1/4 cup

maple sugar
Method
In a medium but deep saucepan (Use a saucepan with a capacity of 2 liters (8 cups)), combine the purées, maple syrup, and pectin. Bring to a boil. Stir frequently and allow to boil until the temperature on a candy thermometer reads 110° C (225° F). Be careful! This preparation will get very hot and the thickening liquid will bubble and perhaps splash. Keep a close eye on the heat toward the end of cooking to prevent the mixture from sticking to the bottom and burning.
Stir often to prevent it from sticking and burning at the bottom. Lower the heat to help.
Remove from heat and add the lemon juice.
Transfer to a 20 cm (8 in) square pan lined with parchment paper. (Use a parchment paper-lined loaf pan to get a thicker spread.) Allow to cool at room temperature for a few hours.
Remove from pan and cut into the shapes (cubes, strips, triangles, etc.) you like. You could also shape with a knife or cookie cutter.
Coat with maple sugar and store in an air-dry container.
*Use a commercial apple puree as the amount of pectin included in the product helps.
** If you use berry purées (i.e. strawberry, raspberry, cranberry, etc), you'll have to put them through a sieve first.
COOKING TIME : 25-30 minutes
RESTING TIME: A few hours
SERVINGS: 36 bite-sized treats
The Quebec Maple Syrup Producers are not in any way responsible for the identification or presence of allergens in recipes or for the classification of any recipe as vegetarian or vegan.
Hundreds of Delicious Recipes
Maple is a special addition to any recipe, from appetizer to dessert. Find one that's perfect for you or your occasion!