Maple-Lemon Arctic Char with Dill
---
Fish and Seafood / Recipes with Maple Syrup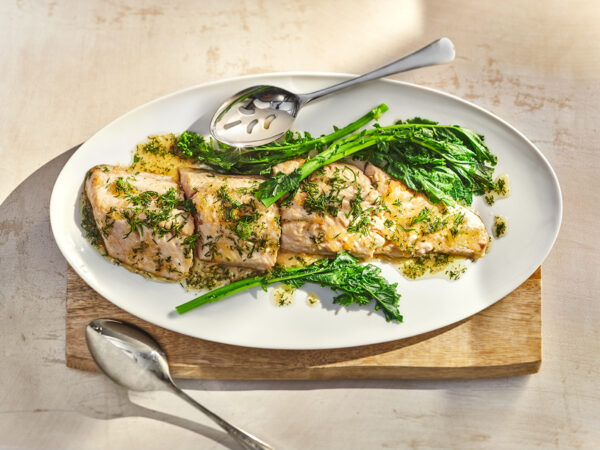 Ingredients
4

Arctic char fillets, 150 g (1/3 lb) each, skinless

3 tbsp

butter

1

shallot, finely minced

1/4 cup

raw Québec cider

2 tbsp

lemon juice

1/4 cup

maple syrup (preferably golden syrup for its delicate flavour)

2 tbsp

dill, chopped
Salt and pepper to taste

2 tbsp

olive oil, for brushing
Fresh parsley or basil leaves, snipped, for garnish (optional)
Method
Preheat oven to 200° C (400° F).
Line a baking sheet with parchment or wax paper and brush with olive oil.
Season the char fillets with salt and pepper.
Melt the butter in a saucepan and add the shallot and cider. Reduce by half, then add the lemon juice and maple syrup. Cook one or two minutes. Set aside.
Bake the fish for 3 minutes. Remove from oven and cover with aluminum foil. Set aside for 5 minutes.
Heat the maple-lemon mixture, add the dill, and season with freshly-ground pepper.
Presentation
Divide the sauce among your plates, then place Arctic char fillets on top. Garnish with parsley or basil.
Arctic char is farmed in the Gaspé Peninsula. It is a cold-water fish belonging to the Salmonidae family, and can be substituted in this recipe with sea trout or salmon.
The Quebec Maple Syrup Producers are not in any way responsible for the identification or presence of allergens in recipes or for the classification of any recipe as vegetarian or vegan.
Hundreds of Delicious Recipes
Maple is a special addition to any recipe, from appetizer to dessert. Find one that's perfect for you or your occasion!