Maple-Poached Halibut with Maple-Crisped Skin
---
Fish and Seafood / Main Courses / Recipes with Maple Flakes / Recipes with Maple Syrup / Recipes with Maple Water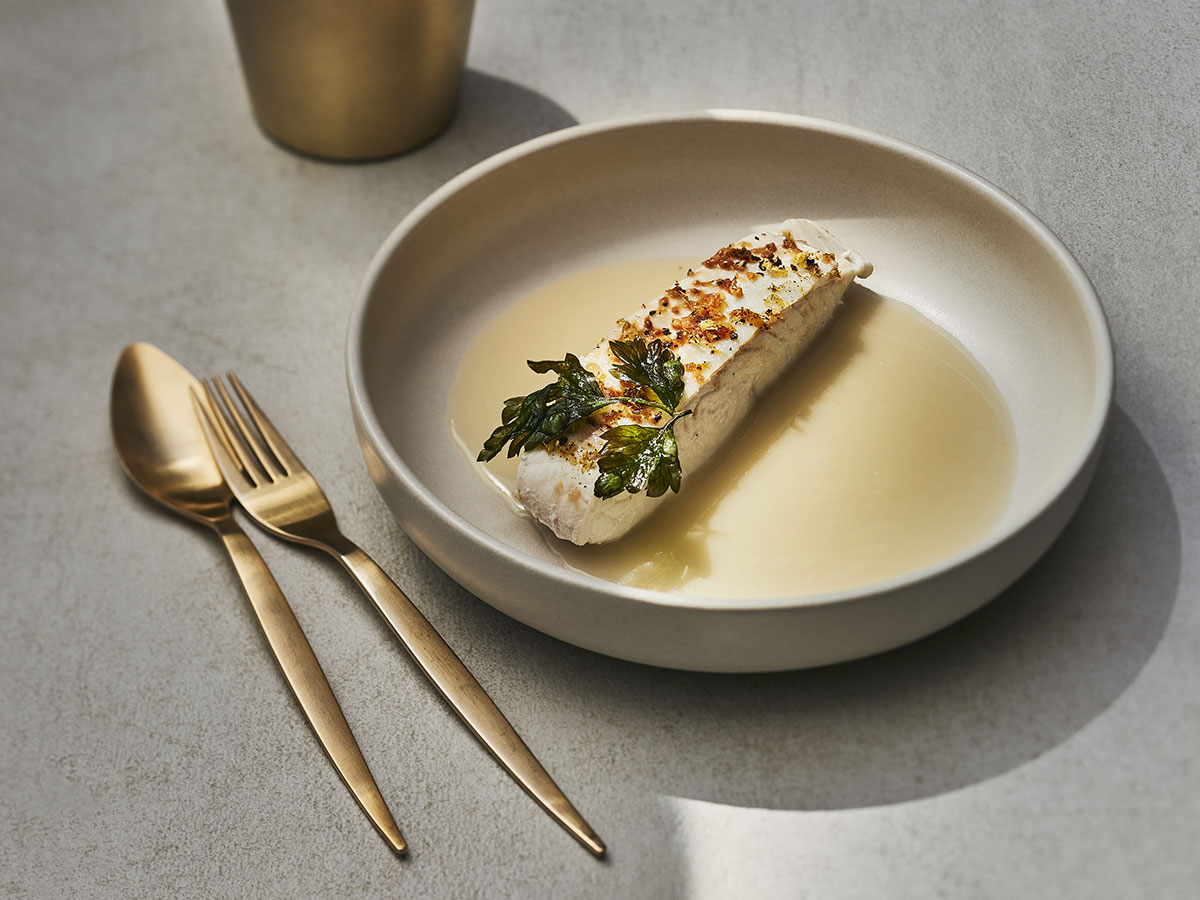 Ingredients
1 1/2 cup

maple water

1/4 cup

dry white wine

1

white onion, minced

4

stems of flat leaf parsley

1

carrot, sliced

1

stick of celery, minced

6

peppercorns, crushed
Salt to taste

4

halibut fillets* 150 g (1/3 lb) each, skin on

1/4 cup

unsalted butter

3 tbsp

maple syrup (preferably amber syrup for its rich flavour)

1/4 cup

maple flakes

1

lemon, zest only

4

peppercorns, crushed
Method
Preheat oven to 160° C (325° F).
Put the maple water, white wine, vegetables, and 6 crushed peppercorns into a large saucepan, add the salt, and boil for 2 minutes.
Place the fish into the liquid and simmer for 5 minutes.
Remove the fish and place, skin side up, on a lightly oiled baking dish. Set aside.
Reduce the cooking juices by three quarters, then filter it, and whisk in the butter and maple syrup.
In a bowl, combine the maple flakes with the lemon zest and 4 crushed peppercorns.
Lay paper over the fish and reheat it in the oven for 2 minutes
Spread the maple-lemon-pepper mixture on the fish skin and caramelize with a torch. (If no torch, use the broiler.)
Serve with the maple-butter reduction.
* Instead of halibut, you can make this recipe with salmon, flounder, haddock, or other firm fleshed fish.
SERVING SUGGESTIONS: This dish may be garnished with fried flat leaf parsley or samphire.
The Quebec Maple Syrup Producers are not in any way responsible for the identification or presence of allergens in recipes or for the classification of any recipe as vegetarian or vegan.
Hundreds of Delicious Recipes
Maple is a special addition to any recipe, from appetizer to dessert. Find one that's perfect for you or your occasion!