Maple Vegetable Risotto
---
Main Courses / Rice and Cereals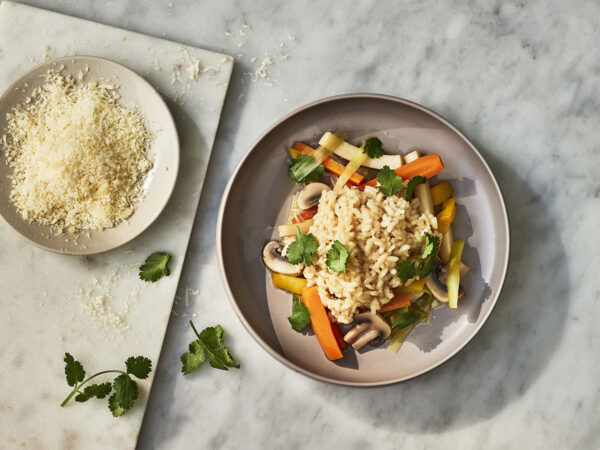 Ingredients
4 cups

chicken or beef broth

3 tbsp

maple syrup (preferably golden syrup for its delicate flavour)

1

parsnip, peeled and cut into sticks

2

carrots, peeled and cut into sticks

1

leek, cut into sticks

2

yellow peppers, cut into sticks

1

onion, minced

6

button mushrooms, chopped

2 tbsp

olive oil

1 cup

arborio rice*

2

cloves, chopped

2 tbsp

parmesan, grated

2 tbsp

butter
Salt and pepper, to taste

1 tbsp

fresh cilantro leaves, chopped
Method
In a saucepan, combine 250 ml (1 cup) broth with the maple syrup.
Add the vegetables and cook, covered, for 30 minutes.
Allow to rest for 3 hours.
Put another saucepan over medium heat and warm the oil without letting it bubble. Add the rice and garlic while stirring.
Gradually add the remaining broth, stirring frequently until all the liquid is absorbed. Cook until the rice is al dente (18 – 22 minutes).
Remove from heat, add the parmesan and butter, season with salt and pepper, then stir.
Arrange the vegetables on each plate, then the risotto over top. (If desired, warm the vegetables slightly in the microwave before plating.)
Sprinkle with chopped cilantro and serve.
RESTING TIME: 3 hours
* Three types of rice are suitable for risotto: Arborio, Vialone Nano, and Carnaroli.
The Quebec Maple Syrup Producers are not in any way responsible for the identification or presence of allergens in recipes or for the classification of any recipe as vegetarian or vegan.
Hundreds of Delicious Recipes
Maple is a special addition to any recipe, from appetizer to dessert. Find one that's perfect for you or your occasion!