Maple Salmon Burgers
---
Fish and Seafood / Recipes with Maple Syrup / Sandwiches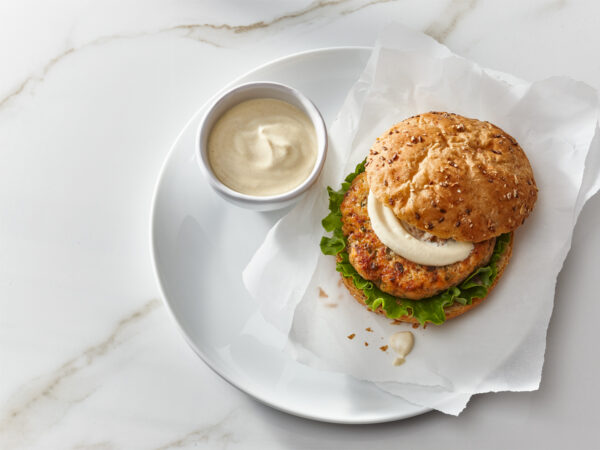 Ingredients
Maple Syrup Sauce
1/3 cup

fresh white cheese, such as Quark

1 tablespoon

Dijon mustard

2 tablespoons

maple syrup (preferably amber syrup for its rich flavour)
Burgers
1 lb

raw salmon meat, ground

1 tablespoon

capers, finely chopped

2 teaspoons

Dijon mustard
garlic clove, finely chopped

2 tablespoons

chopped green onion

2 tablespoons

grated Parmesan cheese

2 tablespoons

maple syrup (preferably amber syrup for its rich flavour)

2 tablespoons

chopped fresh parsley
Salt and freshly ground pepper to taste

4

buns
condiments of choice
Method
Mix all sauce ingredients and let rest in an airy place while preparing the burgers.
Preheat the grill or oven to 210 °C (425 °F).
In a bowl, combine all the burger ingredients except for the buns and condiments. Divide the mixture into four and form patties.
Place patties on aluminium foil on the grill, or on parchment paper in the center of the oven, and cook for 6 to 10 minutes, turning over once.
Heat the buns; garnish the patties with the maple sauce and your favourite condiments.
* You can also cook the burgers in a small saucepan at medium high heat for 3 to 4 minutes on each side.
ENERGY: 360 calories
PROTEIN: 33 g
CARBOHYDRATES: 33 g
FATS: 12 g
Source of omega-3 polyunsaturated fatty acid
The Quebec Maple Syrup Producers are not in any way responsible for the identification or presence of allergens in recipes or for the classification of any recipe as vegetarian or vegan.
Hundreds of Delicious Recipes
Maple is a special addition to any recipe, from appetizer to dessert. Find one that's perfect for you or your occasion!