Maple Spice Mini Panettones
---
Fancy Pastries / Pastries / Recipes with Maple Sugar / Recipes with Maple Syrup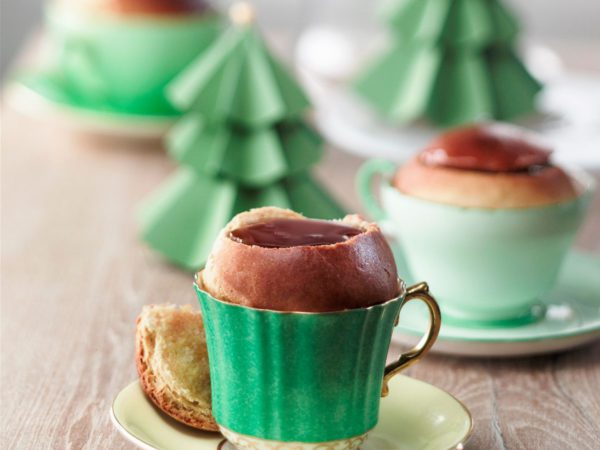 Ingredients
1/4 cup

warm water

1 tablespoon

dry yeast

2 tablespoons

maple syrup (preferably golden syrup for its delicate flavour)

3

eggs

1/4 cup

melted butter, partially cooled

1/2 cup

warm milk

3/8 cup

maple sugar

1/2 teaspoon

salt

1/2 teaspoon

vanilla extract

3 1/2 cups

all-purpose flour

1

pinch of ground nutmeg

1

pinch of ground cinnamon

1

pinch of ground ginger

1

egg, beaten

1 cup

maple taffy
Method
Pour the warm water into a large bowl, add the yeast and maple syrup and let stand for about 10 minutes or until foam appears on the surface.
In another bowl, vigorously beat together the eggs, butter, milk, maple sugar, salt and vanilla. Stir into the yeast mixture.
In a third bowl, combine half of the flour and the spices. Stir the flour mixture into the batter. Now gradually add the rest of the flour, a little at a time, until you obtain a soft dough that is no longer sticky.
On a work surface dusted with flour, gently knead the dough to develop some elasticity and shape it into a ball.
Place the dough in a bowl, cover with a damp towel and let rise for 1 hour in a warm place.
Once the dough has doubled in size, punch it down to release the air bubbles.
Preheat the oven to 200 ºC (400 ºF). Form the dough into ten small balls. Place them in buttered cups.
Cover and let rise for 15 to 30 minutes, until they have doubled in size in the cups. Brush the balls with the beaten egg.
Bake for 15 to 25 minutes, or until golden brown. Let cool on a rack lined with waxed paper.
Cover the cups with plastic wrap and place in the freezer.
The Quebec Maple Syrup Producers are not in any way responsible for the identification or presence of allergens in recipes or for the classification of any recipe as vegetarian or vegan.
Hundreds of Delicious Recipes
Maple is a special addition to any recipe, from appetizer to dessert. Find one that's perfect for you or your occasion!