Maple Pecan Brioches
---
Breakfast and Brunch / Pastries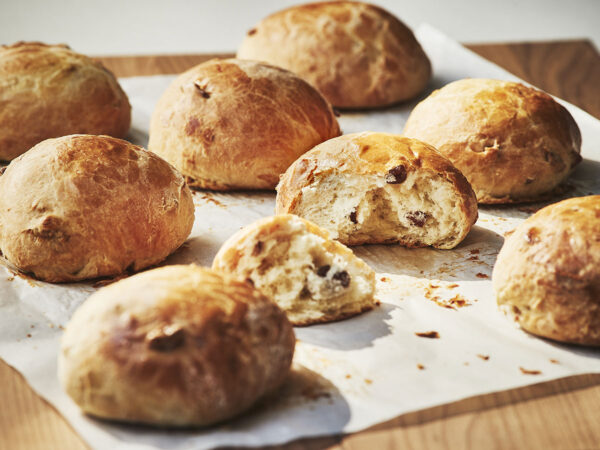 Ingredients
2 tbsp

dry yeast

1/8 cup

lukewarm water

1/4 cup

maple syrup (preferably dark syrup for its robust flavour)

4 3/4 cups

all purpose flour

1 1/3 cup

cold butter, in cubes

3

whole eggs

7/8 cup

milk, at room temperature

2/3 cup

maple sugar

1 tsp

fine salt

2 3/4 cups

pecan pieces

1

egg (for egg wash)

1 tbsp

milk (for egg wash)
Method
In a small bowl, dissolve the yeast in the lukewarm water and maple syrup. Leave for 5 minutes (or until the yeast doubles in volume).
In a food processor, blend the flour and cold butter for a few minutes, until it's of a sandy texture.
Empty these contents into a large bowl and add the yeast, the three eggs, and the milk. Mix by hand for a few minutes.
Add the maple sugar and salt, mixing until the dough is smooth and comes away from the bowl.
Add the pecans and mix these in by hand.
Fold the dough over itself several times.
Cover with a damp cloth and set aside to double in volume at room temperature (1 – 2 hours).
Now put it in the fridge for a few hours (or overnight).
Lightly flour a work surface and divide the brioche dough into 22 parts, shaping them into balls.
Line a baking sheet with parchment paper. Arrange the brioches on it.
Combine the egg and milk and brush the brioches with the mixture.
Let the brioches rise in a warm room at 25° C (77° F) for 1 – 2 hours.
Put the oven rack above centre position and preheat to 180° C (350° F).
Once the brioches have doubled in volume, bake 20 – 25 minutes until nicely coloured, being careful not the let the bottoms burn. If necessary, double the baking sheet with another.
Allow to cool on a wire rack.
RESTING TIME: 2 – 4 hours
REFRIGERATION TIME: A few hours or overnight
The Quebec Maple Syrup Producers are not in any way responsible for the identification or presence of allergens in recipes or for the classification of any recipe as vegetarian or vegan.
Hundreds of Delicious Recipes
Maple is a special addition to any recipe, from appetizer to dessert. Find one that's perfect for you or your occasion!