Maple-tastic Turkey, Sweet Potato, and Foie Gras Sheet Pie
---
Recipes with Maple Sugar / Recipes with Maple Syrup / Turkey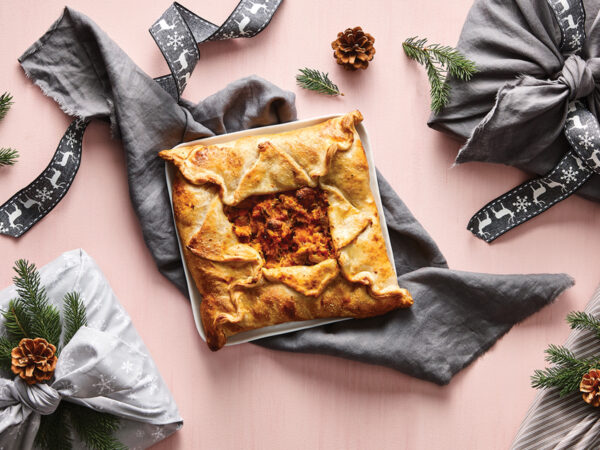 Ingredients
2 cups

sweet potatoes, cubed

1 tbsp

butter

1

onion, chopped

3 tbsp

maple syrup (preferably amber syrup for its rich flavour)

1/4 cup

foie gras mousse or paté, plain or with truffles

2 cups

turkey, cooked and shredded

1 lb

store-bought pie or puff pastry dough, rolled out

1

egg, beaten

1 à 2 tsp

maple sugar

1/4 tsp

fleur de sel
Salt and freshly-ground pepper
Method
Place the sweet potato cubes into a saucepan, cover with water, and add a pinch of salt. Bring to a boil and cook for 15 – 20 minutes or until just tender.
Meanwhile, melt the butter in a medium-hot skillet and sauté the onion 10 minutes. Add the maple syrup, season with salt and pepper, and allow to caramelize 2 – 3 minutes. Remove from heat and allow to cool.
Drain your potatoes, return to the pot, and mash.
Mix the foie gras and caramelized onions into the sweet potatoes, and season with salt and pepper to taste. Allow to cool completely. Mix in the turkey.
Pre-heat oven to 190° C (375° F).
Line a baking sheet with parchment paper and set aside.
Cut the pastry into a 25 cm (10 in) square on your work surface, then transfer to the sheet.
Place the filling into the middle, forming a circle about 20 cm (8 in) around. Brush the surrounding pastry with the beaten egg.
Bring the 4 corners of the pastry together over top of the filling. Press edges together, leaving an opening in the centre to allow steam to escape.
Brush the pastry with egg and sprinkle with maple sugar and fleur de sel.
Bake 30 – 40 minutes or until the pastry's golden brown.
The Quebec Maple Syrup Producers are not in any way responsible for the identification or presence of allergens in recipes or for the classification of any recipe as vegetarian or vegan.
Hundreds of Delicious Recipes
Maple is a special addition to any recipe, from appetizer to dessert. Find one that's perfect for you or your occasion!