Vegetable Soup with Maple Water and Maple Butter Pesto
---
Recipes with Maple Butter / Recipes with Maple Syrup / Soups / Thick Soups / Tofu and Legumes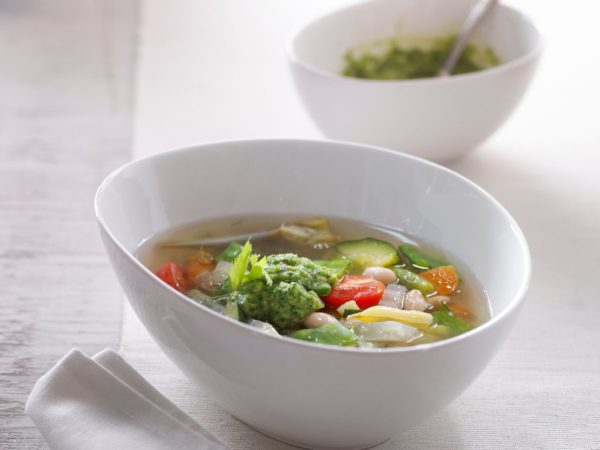 Ingredients
Maple Water Soup
2

ladles white kidney beans

1

white onion, chopped

1 tablespoon

maple sugar
Water (to cover beans)
Salt

4 cups

pure maple water NAPSI

2

carrots of different colours, peeled

1

rib celery

1

small bulb fennel

2

shallots

2-3

garlic cloves
Fleur de sel

1

artichoke, cleaned

12

snow peas

6

cherry tomatoes, halved

1

zucchini

12

green beans

12

wax beans
Maple pepper

1 cup

white wine
Maple Butter Pesto
2

bunches basil

5

garlic cloves (or to taste)

2

cherry tomatoes

2 tablespoons

maple butter

1/4 cup

pine nuts, toasted

1/2 cup

parmesan, finely grated
Olive oil
Fleur de sel
Celery leaves (for garnish)
Method
Maple Water Soup
In a large bowl, combine the white kidney beans, onion and maple sugar, cover with water and let soak overnight.
The next morning, rinse the beans and set aside, reserving the cooking liquid.
In a large pot, warm the maple water over low heat and cook the beans until tender, adding salt at the end of cooking. Set aside.
Cut all the vegetables on the bias (except the cherry tomatoes, which are already cut) into same-sized pieces.
In a cast iron casserole, sweat the vegetables in olive oil. Add them one at a time based on their cooking time: carrots, celery, fennel, shallots, garlic. Season with fleur de sel and continue, adding: artichokes, snow peas, tomatoes, zucchini, then #wax and green beans.
When the vegetables are ready, add the white beans and season with maple pepper. Add the white wine and mix well.
Add 3 ladles of maple water and 3 ladles of the cooking water from the beans. Simmer gently for 15-20 minutes.
Maple Butter Pesto
In a pot of boiling water, blanch half the basil for 15 seconds. Set aside.
In a food processor, combine the other half of the basil, garlic, cherry tomatoes, maple butter, pine nuts and parmesan.
Add the blanched basil and purée, adding olive oil a little at a time until the desired consistency is reached. Season with fleur de sel.
Plating : Serve the soup with a generous spoonful of pesto, or let your guests scoop out the desired amount. Garnish with celery leaves. Drizzle with a little olive oil. Season with fleur de sel and pepper.
The Quebec Maple Syrup Producers are not in any way responsible for the identification or presence of allergens in recipes or for the classification of any recipe as vegetarian or vegan.
Hundreds of Delicious Recipes
Maple is a special addition to any recipe, from appetizer to dessert. Find one that's perfect for you or your occasion!