Roland Del Monte
Pastry chef and ice cream maker
Maple Culinary Ambassador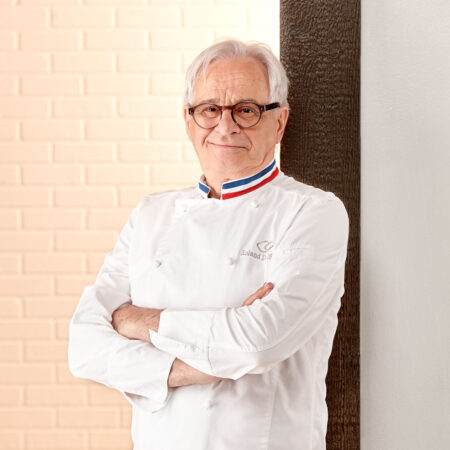 Portrait
Roland Del Monte is a world-class pastry chef and ice cream maker, and the magician behind the artisanal ice creams and sorbets at L'Art Glacier in Westmount.
---
---
Originally from the south of France, Roland Del Monte gained his country's praises as a pastry chef and glazer. In 1994, he earned the prestigious Meilleur Ouvrier de France (MOF) award. He also won a gold medal from the Ordre de l'Artisanat and was named a Chevalier of the Ordre du Mérite agricole by the French ministry of agriculture. Chef Roland took his talents to Montréal in 2009 where he did remarkable work at high-end restaurants such as Europea and the Sofitel Hotel's Renoir in 2014.
In the summer of 2020, Daphné Shami opened L'Art Glacier par Roland Del Monte in Westmount. The ice cream and sorbets are spectacular, made only from the finest fresh local ingredients. Chef Roland has a unique ability to find the perfect combination of flavours.
---
Quality Products and Healthier Choices
Chef Roland prioritizes local and in-season products for his creations, carefully choosing his suppliers.  High on his list is one of Québec's iconic symbols: maple syrup.
"I do a lot of compotes and coulis and I like to work with excellent primary ingredients. For me, it's important to use good fruits because their natural sugars are the best sweeteners. I try to reduce the calorie content, but never to the detriment of taste."
---
Commitment and Generosity
Roland Del Monte makes a point of sharing his art and knowledge. He is an ice cream consultant in several countries, goes to conferences around the world, and acts as a judge in international pastry competitions. He has been a Maple Ambassador since November 2020.
Chefs
---
Maple, in all its forms, has an open invitation to the greatest tables, as it never fails to bring with it a hint of audacity and a host of pleasures. And many have adopted it as their own: Chefs, bakers, brewers, winemakers, ice cream makers, and caterers use maple with a passion… because it's an exceptional product that invites them to reinvent themselves. Incredible maple!
The Science Behind Maple
Researchers are learning about the natural composition of maple syrup and its potential benefits to human health. Find out what they know!