Antoine's Maple Frittata
---
Quiche / Recipes with Maple Syrup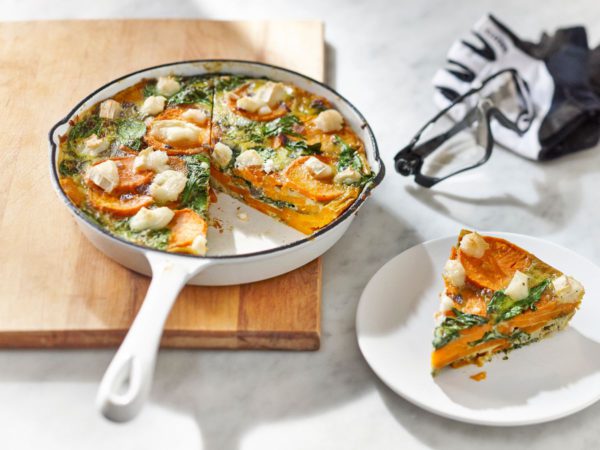 Ingredients
4

medium sweet potatoes, peeled and cut into 1 cm (3/8 in) slices

1 tablespoon

olive oil

1/2

medium red onion, diced

1 cup

fresh spinach, washed

1 teaspoon

Dijon mustard

2 tablespoons

maple syrup (preferably golden syrup for its delicate flavour)
Pinch of cardamom
Salt and pepper, to taste

1/3 cup

water

4

large eggs, lightly beaten

2 1/2 oz

goat cheese, crumbled
Method
Set the oven to broil and preheat.
Cook the sweet potatoes, either in a bowl with a bit of water in the microwave for 5 – 6 minutes, or in a pot of boiling water on the stove for about 10 minutes.
In an oven-proof skillet, heat the oil and sweat the onion for 1 minute.
Add the cooked potatoes and the spinach, mixing gently for 2 – 3 minutes.
In a small bowl, combine the mustard, maple syrup, cardamom, and salt and pepper, then add to the skillet.
Deglaze with the water. Add the eggs and cook for 5 – 6 minutes, stirring to coat all with the eggs.
Sprinkle the goat cheese on top.
Once the mixture is lightly browned, put it under the broiler for 2 – 3 minutes.
Remove from oven and allow to rest 5 minutes. Cut into 4 or 6 wedges.
Nutritional Value per Serving
6 Servings (ideal before exercise)
Calories: 200 kcal
Fat: 8 g
Carbohydrates: 24 g
Fibre: 3 g
Protein: 8 g
4 Servings (ideal after exercise)
Calories: 290 kcal
Fat: 12 g
Carbohydrates: 35 g
Fibre: 4 g
Protein: 12 g
The Quebec Maple Syrup Producers are not in any way responsible for the identification or presence of allergens in recipes or for the classification of any recipe as vegetarian or vegan.
Hundreds of Delicious Recipes
Maple is a special addition to any recipe, from appetizer to dessert. Find one that's perfect for you or your occasion!