Baked Cod with Shellfish Consommé Jelly and a Maple-Cilantro Sauce
---
Fish and Seafood / Recipes with Maple Syrup / Recipes with Maple Water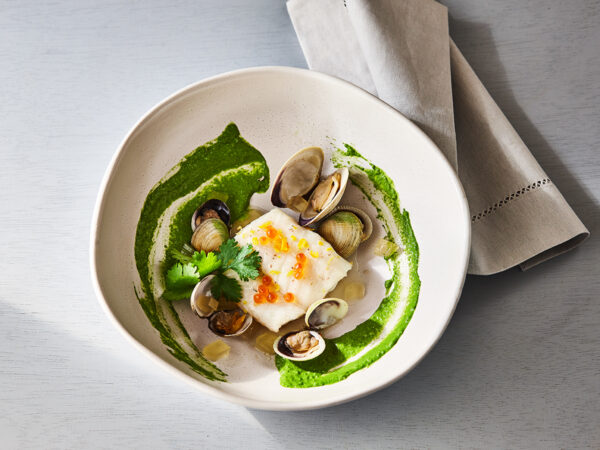 Ingredients
CITRUS BUTTER
1/4 cup

half-salted butter, at room temperature

2 tbsp

olive oil

1/2 cup

maple syrup (preferably golden syrup for its delicate flavour)

1

zest of orange

1

zest of lemon
SHELLFISH CONSOMMÉ JELLY
a bit more than 1/3 cup

clarified shellfish stock or store-bought clam juice

2 tbsp

lemon juice

4

gelatin leaves, hydrated and then squeezed (or about 7 g gelatin crystals)
MAPLE-CILANTRO SAUCE
1

bunch cilantro

1/2 cup

maple water

1/2 cup

fish stock

1/2 cup

shellfish stock

about 7 tbsp

35% cream

2 tbsp

olive oil
Salt and pepper
COD FILLETS
2

fillets of cod with skin, each about 225 g (1/2 lb)
PRESENTATION
Zests of orange
Zests of lemon
Cilantro leaves

1 tbsp

salmon caviar

1 1/2 cup

mussels, clams, or oysters, cooked (optionnal)
Method
CITRUS BUTTER
Work the butter into a beurre en pommade (see method under Additional Information), then incorporate the olive oil, maple syrup, and the zests of orange and lemon. Set aside.
SHELLFISH CONSOMMÉ JELLY
In a saucepan, bring the clarified shellfish stock to a boil with the lemon juice, and add the gelatin.
Line a small baking sheet with parchment paper, pour the stock into it, and place in the fridge. Once cold, cut it into small rectangles.
MAPLE-CILANTRO SAUCE
Blanch the cilantro in a saucepan, then transfer to a food processor, add the maple water, and blend until smooth. Set aside.
Pour the fish stock and shellfish stock into the saucepan and reduce. Add the cream and olive oil, then the cilantro purée. Season with salt and pepper.
COD FILLETS
Preheat oven to 200° C (400° F). Line a baking sheet with oiled parchment paper. Lay on the cod fillets with the citrus butter. Bake for about 15 minutes until the fish is cooked and the skin is well-caramelized.
Presentation
Spoon maple-cilantro sauce onto a shallow serving plate and set the cod fillet on it. Strew with zests of citrus. Dress with jelly squares and (optional) the cooked and peeled shellfish. Decorate with the salmon caviar and a few cilantro leaves.
BEURRE EN POMMADE
Take the butter out of the fridge and leave it at room temperature for half an hour. Cutting it into small pieces will quicken the process.
Put the butter into a bowl and work it vigorously with a spatula until it is smooth and well-softened.
HOW TO MAKE YOUR OWN SHELLFISH CONSOMMÉ
Ingredients
2 dry shallots, minced
50 ml (about 1/4 cup) olive oil
250 ml (1 cup) white wine
300 g (1 1/2 cup) clams or mussels, or 150 g (3/4 cup) each
Sea salt

Method
In a saucepan, sauté the shallots in olive oil. Add the white wine and shellfish, then the salt. Cover with water and boil for about 20 minutes. Remove the shellfish and strain the cooking juices. Once strained, the consommé may be used with fish and shellfish.
The Quebec Maple Syrup Producers are not in any way responsible for the identification or presence of allergens in recipes or for the classification of any recipe as vegetarian or vegan.
Hundreds of Delicious Recipes
Maple is a special addition to any recipe, from appetizer to dessert. Find one that's perfect for you or your occasion!